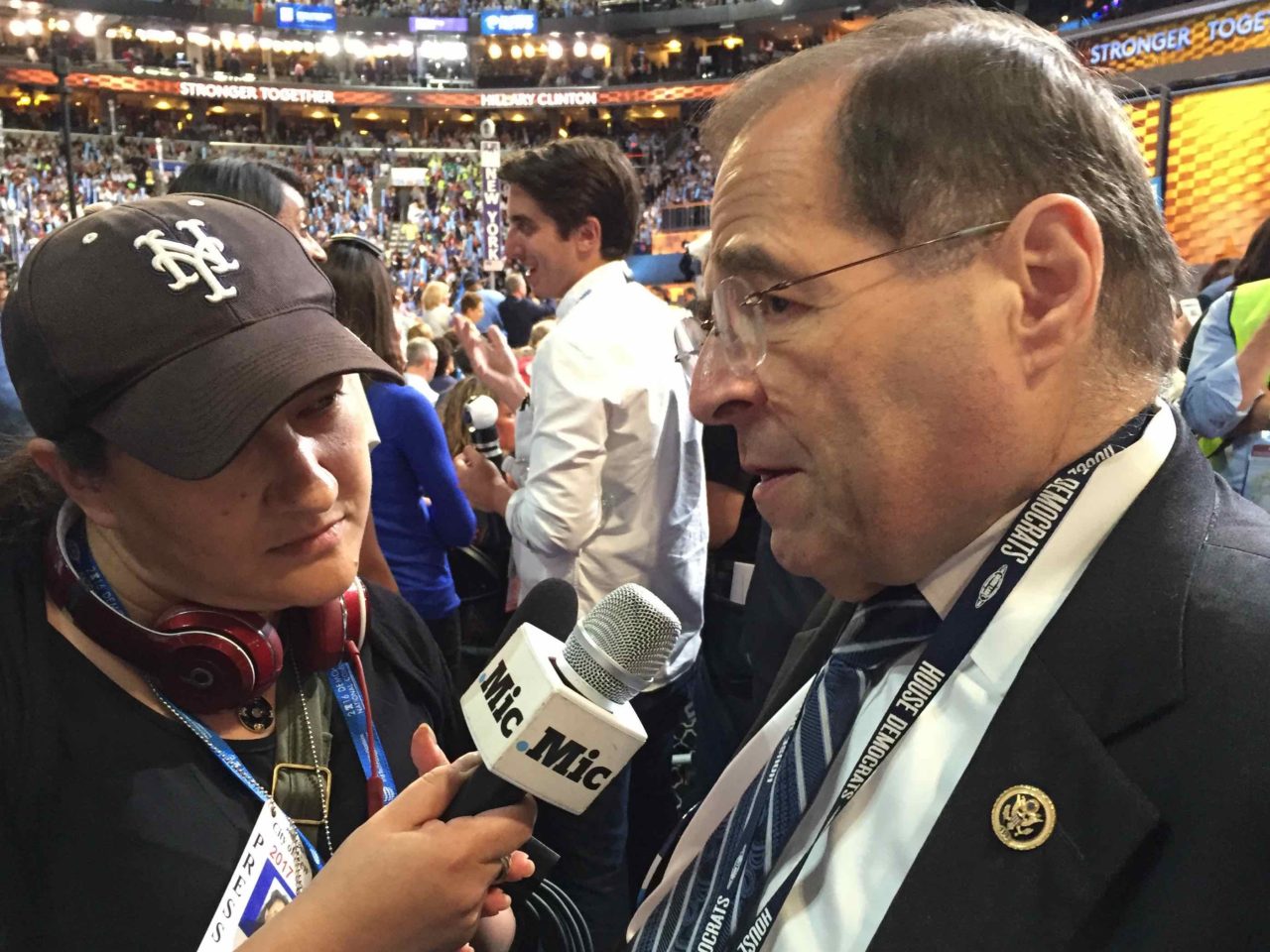 Rep. Jerry Nadler (D-NY), the incoming chair of the House Judiciary Committee, told CNN's Jake Tapper on State of the Union Sunday morning that President Donald Trump had committed "impeachable offenses" by allegedly telling his then-lawyer, Michael Cohen, to pay two women during the 2016 presidential election.
Trump claimed Friday that federal prosecutors' sentencing memo in the Cohen case "Totally clears the President." Tapper opined that the president's claim was "false," then asked Nadler: "Federal prosecutors are saying that the presidnt ordered Michael Cohen to commit two federal campaign finance felonies. In your view, does that rise to the level of an impeachable offense?"
Nadler dodged the question at first, responding merely that "the president was at the center of a massive fraud — several massive frauds against the American people." Tapper returned again: "If proven, would they be impeachable offenses?" Nadler replied, "They would be. Whether they're important enough to justify an impeachment is another question."
He acknowledged that the alleged offenses would have taken place before Trump took office, but said that would make them impeachable anyway because "they were committed in the service of fraudulently obtaining the office." He added that his committee would investigate the matter — as well as questions about Trump's "business dealings with the Russians" and his knowledge of "the Russian interference in the campaign." He said that he disagreed with Special Counsel Robert Mueller and others who suggested that a sitting president could not be indicted.
Tapper and Nadler presume that Cohen must have been telling the truth, and that Trump must have committed a crime. But some legal opinions differ. Harvard Law School professor emeritus Alan Dershowitz, addressing the Cohen claims in August, said that Trump could not have committed a crime, given the allegations as described. He  called them "a catch-22 for the prosecution" on MSNBC:
The president is entitled to pay hush money to anyone he wants during a campaign. There are no restrictions on what a candidate can contribute to his own campaign. So if, in fact, the president directed Cohen to do it as his lawyer and was going to compensate him for it, the president committed no crime. if Cohen did it on his own … then Cohen commits the crime.

…

If they claim that the president authorized him to do it or directed him to do it, it is not a crime for anybody. If Cohen did it on his own, then it is a crime for Cohen but not the president.

This is going to be a very difficult case for the prosecution to make, precisely because the laws on election are so convoluted.
Dershowitz, a Hillary Clinton supporter in 2016, elaborated in The Hill:
If, on the other hand, Cohen made the payments by himself, without direction from the president, that would constitute an impermissible campaign contribution from a third party. But if Cohen was merely acting as a lawyer for Trump and advancing the payments, with an expectation of repayment, then it would be hard to find a campaign finance crime other than failure to report by the campaign.

Failure to report all campaign contributions is fairly common in political campaigns in the United States. Moreover, the offense is committed not by the candidate but, rather, by the campaign and is generally subject to a fine. Though it is wrong, it certainly is not the kind of high crime and misdemeanor that could serve as the basis for a constitutionally authorized impeachment and removal of a duly elected president.
Neither Tapper nor Nadler appear to have considered that contrary opinion in their discussion, though Dershowitz restated it on Friday, calling the case against Trump "extraordinarily weak."
Joel B. Pollak is Senior Editor-at-Large at Breitbart News. He is a winner of the 2018 Robert Novak Journalism Alumni Fellowship. He is also the co-author of How Trump Won: The Inside Story of a Revolution, which is available from Regnery. Follow him on Twitter at @joelpollak.
http://feedproxy.google.com/~r/breitbart/~3/F5Tq7f8mBWk/