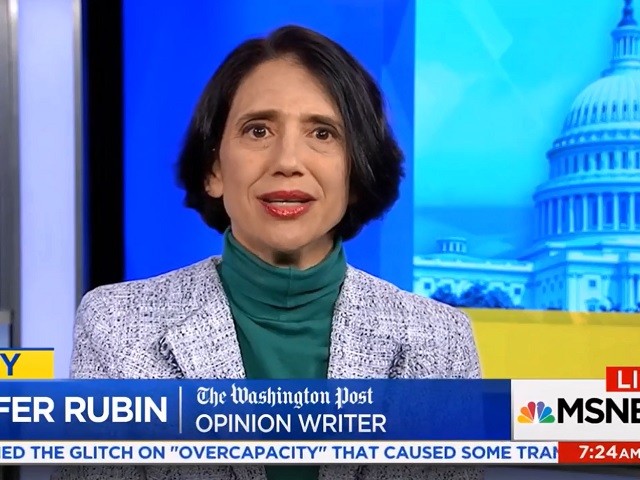 Washington Post opinion writer Jennifer Rubin baselessly speculated that Nikki Haley resigned as U.S. ambassador to the U.N. because of the "nasty, misogynistic rhetoric" of the GOP in a column published Tuesday.
Jennifer Rubin repeatedly projected her own desires onto Haley in the article, making things up as she went along.
Rubin wrote:
Perhaps her announcement was triggered over the administration's tepid response to the disappearance and possible murder of Post Global Opinions contributor Jamal Khashoggi, a prominent Saudi journalist and critic of the Saudi government. She might have had enough after the GOP's nasty, misogynistic rhetoric expressed throughout the confirmation of Justice Brett M. Kavanaugh. Or this just might have been the most convenient moment — after Kavanaugh was sworn in and far enough in advance of the midterms to not be too much of a distraction.
Rubin also speculated that Haley is waiting for Trump to "collapse under the weight of multiple investigations" and then she'll run in 2020, or  maybe she's going to try to primary South Carolina Sen. Lindsey Graham.
Of course, this is nonsense–it's all literally just completely and totally made up out of thin air, which is apparently a skill you need to get a job writing articles at the Washington Post.
She's in good company–many people in the establishment media spread baseless conspiracy theories about why Haley is leaving.
Rubin just recovered from an incident of spreading fake news in a tweet where she also slammed "old white guys."
This "conservative" writer also called for White House press secretary Sarah Sanders to face a "life sentence" of being uncomfortable.
"We're not going to let these people go through life unscathed," Rubin said during an MSNBC appearance. "Sarah Huckabee has no right to live a life of no fuss, no muss, after lying to the press, after inciting against the press. These people should be made uncomfortable, and I think that's a life sentence, frankly."
http://feedproxy.google.com/~r/breitbart/~3/_Dwr9iXC3_c/