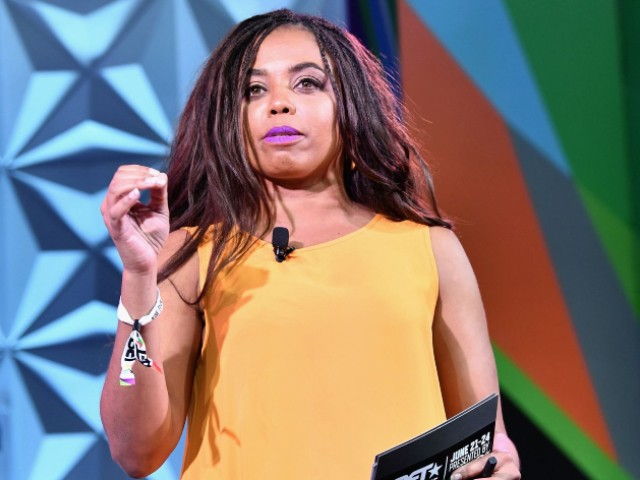 Former ESPN host and current Atlantic writer Jemele Hill doubled down on her accusation that President Donald Trump is a "white supremacist," in a visit with left-wing Late Show host Stephen Colbert.
During the Friday night appearance, Colbert brought up Hill's 2017 tweet accusing Trump of being a white supremacist. Hill responded to Colbert by blurting out, "show me the lie," Newsbusters reported.
Hill, who left ESPN in August and joined the staff of The Atlantic as a "social justice" writer, went on to say how pleased she was that President Trump named her personally in one of his famous tweets.
Late in 2017, Trump slammed Hill saying that she was the main reason ESPN's ratings had tanked.
"But as a journalist, you sort of live for that moment," Hill said of Trump's broadside. "Because most of us, we live for the day when city hall comes after us. I was amused and took it as a really good compliment, and you know what they say: 'hit dogs holler.'"
Still, Trump's assessment was closer to the truth than Hill's bemusement. After she was removed from her ESPN show, ratings for SportsCenter skyrocketed into positive territory for the first time in years.
Later in her Late Show interview, Hill spoke of how sports and politics have always been intermingled and exclaimed that Tim Tebow never faced any backlash over his pro-life Super Bowl ad. Hill's assumption is hardly true. Pro-abortion activists excoriated Tebow for the ad. In fact, pro-abortion activists tried to get the CBS and the NFL to cancel the Tebow ad.
Hill also spoke about her new Showtime documentary, Shut Up And Dribble, by disingenuously acting as if she couldn't remember who inspired the name of the show.
The former TV host said the three-part series was inspired by "some woman on Fox News. I think it was Laura Ingraham." Hill said that dismissively feigning as if she didn't know full well it was Laura Ingraham.
Hill continued saying Ingraham, "said that about LeBron James because he was being critical of the president. … I should really be thanking her because without her saying that I don't know if I'd be narrating this documentary. So, way to give me another check!"
She wrapped up her appearance saying that she thinks former NFL quarterback Colin Kaepernick will be "remembered as a hero" for his protests against the U.S.A. during the national anthem.
But Hill also added that the racist NFL — the organization that makes millionaires of more blacks than any in history — would never let Colin play again.
"He stood for equality. If Colin Kaepernick had hit a woman, he'd be back in the NFL already," Hill proclaimed. "But he's not back playing because of his stand on social justice, and it makes a lot of the ownership in the NFL uncomfortable and the fan base that watches 'em."
Follow Warner Todd Huston on Twitter @warnerthuston.
http://feedproxy.google.com/~r/breitbart/~3/QLvC9p5kY0U/