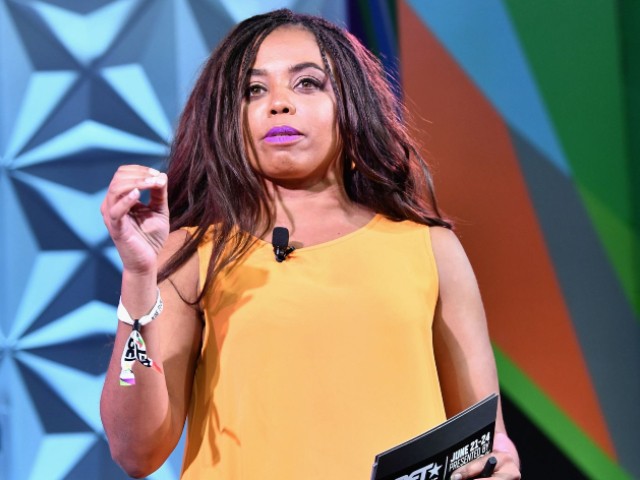 Former ESPN host Jemele Hill said the police are killing unarmed black men in "state-sanctioned killings," during an appearance during a Boston town hall event sponsored by OZY online magazine editor Carlos Watson.
The discussion turned to Colin Kaepernick at one point during the event, and Hill made to "explain" what Kaepernick was thinking with the national anthem protests he invented in 2016.
"I think a lot of people forget what his original messaging was, and people also need to be reminded that the reason he chose to take a knee is because a former U.S. Army vet, Nate Boyer, told him a knee is more respectful. A knee is what you do for fallen soldiers," Hill began.
The one-time TV host went on adding:
And in Colin's mind that the way the current justice system is structured, the way that black men are over-criminalized over-sentenced. The fact that, you know, literally we're all watching in real time as black men, unarmed, are being shot and killed — state-sanctioned killings. These were such upsetting issues for him that he wanted to draw attention to what was happening. And it wasn't just about a gesture. He's followed that up with action in terms of donating his own money.

Based off what I think, he'll never play in the NFL again. So, this has cost him his career. This is somebody who loved football. Who was maybe a throw away from going to back-to-back Super Bowls. So, clearly he was very good at what he did, and that's all gone.

The NFL, which has no problem welcoming people who have been accused or convicted of domestic violence, of sexual assault, they have decided to blackball someone from the league who stood up or justice.
"Just let that kind of sink in," she concluded.
.@JemeleHill brilliantly explained why Colin Kaepernick's heroic gesture was so radical — and how his fellow players might have let him down — on the first episode of #Take On America (made with @Ozy) pic.twitter.com/0LJuQcriN2

— NowThis (@nowthisnews) October 19, 2018
Hill's interpreting of Kaepernick's thinking does not perfectly comport to what the player actually said in 2016 when he started his protests.
Indeed, far from just protesting rogue cops, Kaepernick himself expanded his protests into a statement against police in particular and the entire country in general.
The player's actions in the months after he started his protest show that he was making a larger statement than one merely against police brutality or a broken justice system. In one case, for instance, he wore socks portraying police as pigs. This act that turned a discussion about occasional police brutality into a blanket statement of hate for all police regardless of their actions.
Kaepernick also said that the U.S. was never great, meaning that he was standing against the whole country, not just against "racism."
Among other stands he took, Kaepernick also proclaimed that the whole of the country is racist –- despite that he was adopted and raised by a white family. He was seen wearing a Fidel Castro shirt thereby celebrating a man who has murdered hundreds of thousands of political opponents over the last 50 years and a man who has excoriated the United States as a great evil. He is also a supporter of the Black Lives Matter, a group many Americans believe to be a domestic terror outfit that has been responsible for multiple riots, millions in property destruction, and deaths across the U.S.
Clearly, Kaepernick's protest was no simple and humble statement against police brutality.
Follow Warner Todd Huston on Twitter @warnerthuston.
http://feedproxy.google.com/~r/breitbart/~3/Vqt-3WbiVPg/