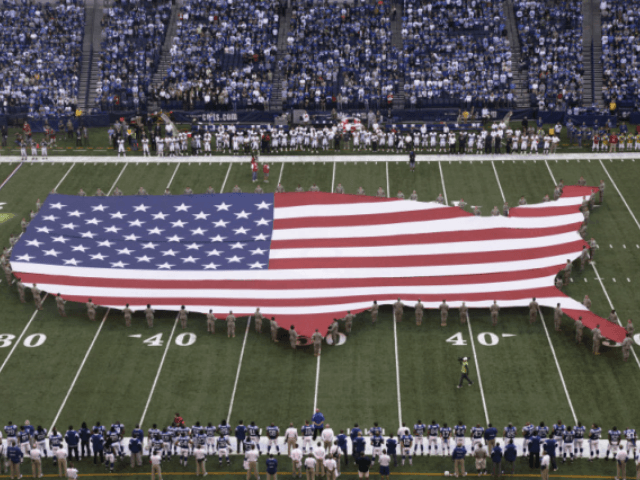 Some people believe that there's a war on football being waged. Daniel Flynn and Merrill Hoge wrote books about it, and Fox Sports 1's Jason Whitlock says it all the time on his show, Speak for Yourself.
And now CNS Editor-in-Chief Terence P. Jeffrey also says it's time to fight back against the war on football in a new column for cnsnews.com titled: "Football Makes America Great."
Jeffrey chronicles how long-time Harvard President Charles Eliot "led a crusade against it and lost."
Jeffrey quoted Eliot writing about football in 1892 saying, "The game of football grows worse and worse as regards foul and violent play and the number and gravity of the injuries which the players suffer. It has become perfectly clear that the game as now played is unfit for college use."
Walter Camp, a Yale player from Eliot's era, countered that only one person had died playing football, yet "Five young men, students at Harvard, went sailing, their boat was upset in a squall, and all five were drowned. Had similar fatalities occurred in any of the sports called games, the shock to the community would have been so severe as to have prompted many letters to the newspapers and to the faculty, urging the forbidding of the sport."
Over a century later, the same battle continues, with people attacking the sport over its safety, but not showing the same concerns about other sports, that might be more dangerous.
Hoge recently penned a book called, "Brainwashed: The Bad Science Behind CTE and the Plot to Destroy Football."
"We are in the state of California, and you have some legislation to ban football until age 14," Hoge said on FS1 while promoting his book "You can start MMA fighting and boxing at age 8 in this state. Why would you tell me there's not a war on football, or a target if you are going to say it's okay to box? Keep this in mind. Correct me if I'm wrong, isn't the objective to target your head in MMA and boxing? At 8, we can box in California, but we want to ban tackle football and what is the scientific evidence that they're bringing to the table. There is no scientific evidence that there is anything wrong with kids playing contact sports."
In 2013, Flynn wrote a book called, "The War on Football," with a strong focus on the misleading stats about football vis-a-vis other sports.
Flynn, writing for National Review in 2013, said "One thousand times more Americans die from swimming than from football hits. Last year, skateboarding collisions killed 15 times as many Americans as football collisions did. About twelve times as many people die annually from crashes on the ski slopes than die from crashes on the gridiron."
Flynn added, "More Americans died from cycling accidents last week than died from football hits during the last three seasons combined. The tragedies led no one to call for a ban on bikes."
So the same battle going on over 100 years ago, is still going on now.
"There is an unfair, ridiculous war on football and I'm sick of it," Whitlock recently said on FS1.
But even with forces trying to bring down football, it still reins as America's top sport.
And as Jeffrey pointed out about Eliot's lost battle to bring down the sport more than a century ago: "He lost — and America won."
http://feedproxy.google.com/~r/breitbart/~3/WYXXVZSOjZY/