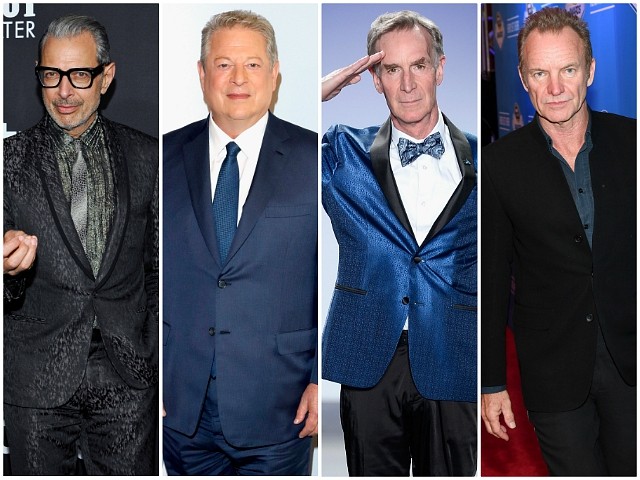 A group of celebrities will join former Vice President and environmental activist Al Gore for a 24-hour broadcast aimed at raising awareness about climate change.
In a Tuesday press release, Al Gore announced the line-up for the eighth annual "24 Hours of Reality: Protect Our Planet, Protect Ourselves," which includes Hollywood stars Sting, Jaden Smith, Jeff Goldblum, DJ Moby, and Bill Nye, among others. The Los Angeles-based event will air in 125 countries and stream online at 24HoursofReality.org beginning December 3 at 6:00 p.m. PST.
It's a fact: Fossil fuels are driving the climate crisis and threatening our health. Tune in to #24HoursofReality on December 3–4 and learn how you can help make a difference. https://t.co/tHg4pqpyGm pic.twitter.com/a3oGkrA1Ul

— Al Gore (@algore) November 27, 2018
"Our health depends on the health of the planet. The climate crisis is not an abstract issue; it has direct impacts on us and the people we love the most," Gore said in a statement. "I'm looking forward to exploring the climate and health connection on this year's 24 Hours broadcast and to discussing how we can take bold and ambitious action to ensure that future generations can live long, healthy lives full of opportunity and promise."
Last week, Gore made headlines after accusing President Donald Trump of attempting to "bury" the fourth federal National Climate Assessment by releasing it following Thanksgiving.
My statement on the National Climate Assessment released today: https://t.co/fltD5DOmoy pic.twitter.com/PLpGCnaUc0

— Al Gore (@algore) November 23, 2018
"Unbelievably deadly and tragic wildfires rage in the west, hurricanes batter our coasts — and the Trump administration chooses the Friday after Thanksgiving to try and bury this critical U.S. assessment of the climate crisis," the climate crusader wrote in a statement.
"The President may try to hide the truth, but his own scientists and experts have made it as stark and clear as possible," the former vice president-turned climate change advocate added.
http://feedproxy.google.com/~r/breitbart/~3/dxs5-Jx8pjM/