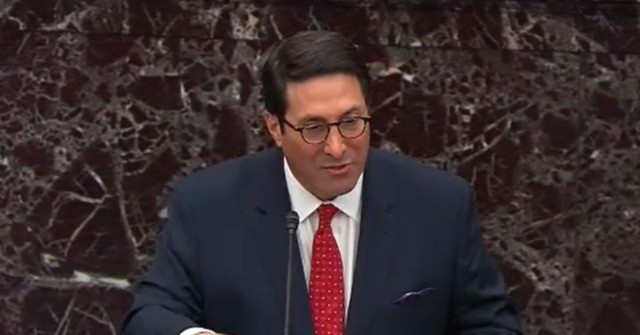 Jay Sekulow, one of the lawyers leading President Donald Trump's defense in the Senate impeachment trial, attacked the arguments Tuesday by Rep. Adam Schiff (D-CA) against executive privilege — by quoting his own words at him.
Schiff, who chairs the House Intelligence Committee and is the lead manager for the House Democrats' case against the president, argued that the president had attempted to obstruct his and fellow Democrats' impeachment inquiry by instructing senior aides in the executive branch not to comply with congressional subpoenas to appear and testify.
But Sekulow reminded Schiff that he had taken an entirely different approach when the Republican-led Congress held then-Attorney General Eric Holder in contempt for refusing to provide key documents relating to Operation Fast and Furious, President Barack Obama's attempt to use gunrunning to Mexico to trace the weapons' path and — critics said — to justify new restrictions on firearms. (Border Patrol Brian Terry was murdered with guns from Fast and Furious.)
Sekulow quoted Schiff, who wrote in Politico in 2012: "The White House assertion of privilege is backed by decades of precedent that has recognized the need for the president and his senior advisers to receive candid advice and information from their top aides."
He could have added that Obama's exertion of executive privilege, which Schiff and other Democrats had defended so vigorously, was later ruled invalid by a federal judge in 2016. The documents were eventually released.
Joel B. Pollak is Senior Editor-at-Large at Breitbart News. He earned an A.B. in Social Studies and Environmental Science and Public Policy from Harvard College, and a J.D. from Harvard Law School. He is a winner of the 2018 Robert Novak Journalism Alumni Fellowship. He is also the co-author of How Trump Won: The Inside Story of a Revolution, which is available from Regnery. Follow him on Twitter at @joelpollak.
http://feedproxy.google.com/~r/breitbart/~3/p31foUbW7FM/