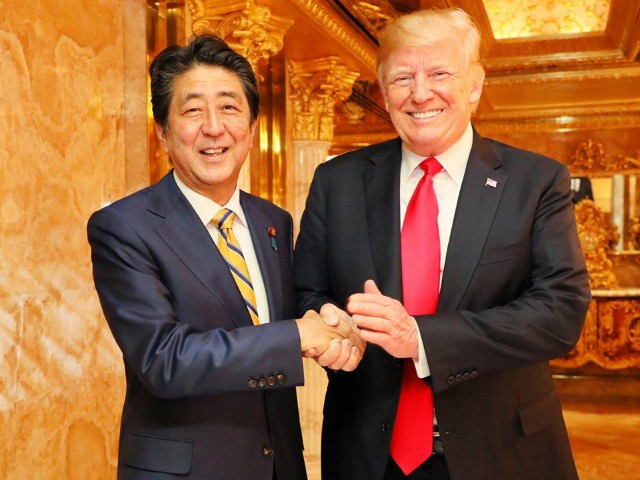 Prime Minister Shinzo Abe of Japan, visiting New York on the occasion of the United Nations General Assembly meeting, told reporters on Sunday that his dinner with U.S. President Donald Trump that night was "very constructive" and ranged from sharing opinions about North Korea to securing mutually beneficial trade agreements.
Trump made dinner with Abe his first appointment for the General Assembly week. The two heads of government share a close relationship; Abe was the first world leader to visit Trump personally following his election in 2016.
On this occasion, Abe greeted Trump on the heels of an overwhelming election victory to remain the head of his right-leaning Liberal Democratic Party, ensuring that Abe will remain prime minister for the next three years.
"We had a very constructive discussion on trade and investment between Japan and the United States," Abe told reporters, according to the Japan Times. "We agreed to make the momentum created in the historic U.S.-North Korea summit in June even stronger and to continue to coordinate closely toward the denuclearization of the Korean Peninsula."
He noted the two met for two-and-a-half hours and that Abe made advocating for the rights of Japanese citizens abducted by North Korea a priority in negotiating with the communist rogue state. Abe added that Trump appeared caring and attentive in listening to his concerns.
North Korea implemented a policy of kidnapping Japanese citizens in the 1970s, using them to train would-be spies on Japanese language and culture. North Korea denied the policy for decades until 2002, then claimed it had only abducted 13 Japanese nationals. Tokyo estimates that up to 800 missing Japanese citizens were abducted and remain in North Korea.
Japan has played a key role in negotiations regarding North Korea. Trump met with Abe shortly before his scheduled meeting with South Korean President Moon Jae-in, which is expected to occur on Monday. Moon is also in New York for the U.N. General Assembly and makes his arrival shortly after his first-ever trip to Pyongyang. Upon returning from North Korea, Moon claimed that communist dictator Kim Jong-un had given him a personal message to deliver to Trump that he would not disclose publicly.
Trump invited Abe to dinner and announced Sunday they would discuss "military and trade." The two are reportedly scheduled to meet once again on Monday evening. On the issue of trade, the president said on Twitter that he hoped "to see more of a reciprocal relationship" with Japan, expressing hope "it will all work out!"
Going to New York. Will be with Prime Minister Abe of Japan tonight, talking Military and Trade. We have done much to help Japan, would like to see more of a reciprocal relationship. It will all work out!

— Donald J. Trump (@realDonaldTrump) September 23, 2018
Following the first dinner, Abe told reporters, "I will continue discussions on trade with him in our summit after economy minister Motegi and U.S. Trade Representative Robert Lighthizer meeting," according to Japan's Asahi Shimbun. Abe did not elaborate on any specifics regarding discussions on trade.
Abe arrived in New York emboldened by a significant electoral victory last week. He is set to become the first Japanese prime minister to serve for three terms, defeating a challenge within his own Party from fellow lawmaker Shigeru Ishiba. Abe is expected to use his comfortable position to negotiate trade and push for changes to Japan's Constitution to allow the nation greater self-defense abilities. The post-World War II Constitution does not allow Japan to maintain a standing military, only "self-defense forces" that cannot be used preemptively. In light of growing threats from North Korea and its patron state, China, Abe has pushed for allowing Japan greater military leverage.
"I will finally embark on constitutional revision, which has never been achieved in the 70 years since the end of the war, and start building a new nation as we look to the future," Abe said last week after his re-election.
Follow Frances Martel on Facebook and Twitter.
http://feedproxy.google.com/~r/breitbart/~3/ZDN9Dd61fLc/