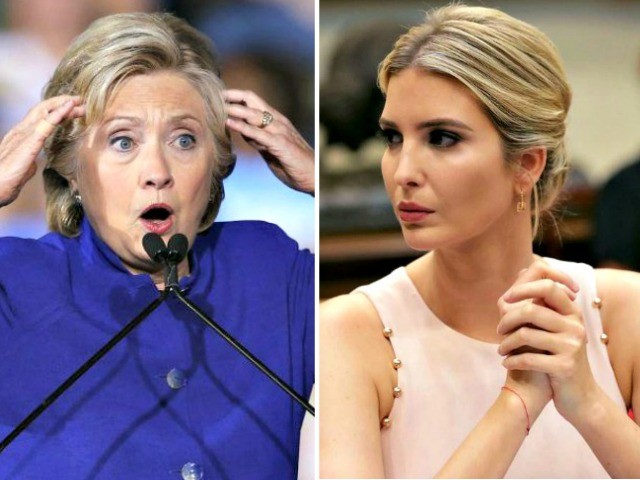 Ivanka Trump, the first daughter and senior adviser to President Trump, defended her use of a private email account while transitioning into the White House in an exclusive interview with ABC News on Wednesday.
The Washington Post reported last week that Trump had used a personal email account to conduct official government business, prompting comparisons to former Secretary of State Hillary Clinton's use of a private server to conduct official business.
But Trump told ABC News, "There really is no equivalency. All of my emails that relate to any form of government work, which was mainly scheduling and logistics, and managing the fact that I have a home life and a work life, are all part of the public record. They're all stored on the White House system."
"So everything's been preserved, everything's been archived, there just is no equivalency between the two things," she added. "People who want to see it as the same see it as the same."
Unlike Clinton, Trump said all of her emails are on the White House server, there was no intent to circumvent, none of her emails were deleted, and none of them were classified.
She added that in Clinton's case, "there were mass deletions after a subpoena was issued."
Clinton set up a private server and email address to conduct official business while Secretary of State, sending tens of thousands of emails, some containing classified material. She erased more than 30,000 emails, claiming they were strictly personal.
According to the Post, Trump's lawyer found fewer than 100 emails in which she discussed official business with other administration officials.
"There's no prohibition from using private email, as long as it's archived and as long as there's nothing in it that's classified," Trump told ABC News.
"In fact, we're instructed that if we receive an email to our personal account that could relate to government work, you simply just forward it to your government account so it can be archived," she said.
She also spoke to ABC News about the special counsel investigation into whether the Trump campaign colluded with Russia.
She said she has no fears of legal exposure for herself, her father, or anyone her family. "I know the facts as they relate to me and my family, and so I have nothing to be concerned about."
She said she agreed with her father that it should be concluded.
"I think it's been a long time that this has been ongoing, but I want it to be done in a way in which nobody could question that it was hurried or rushed," she said. "And I think after this long period of time, we're well beyond that point, so I think it absolutely should reach its conclusion."
http://feedproxy.google.com/~r/breitbart/~3/-JxoVbn6eyY/