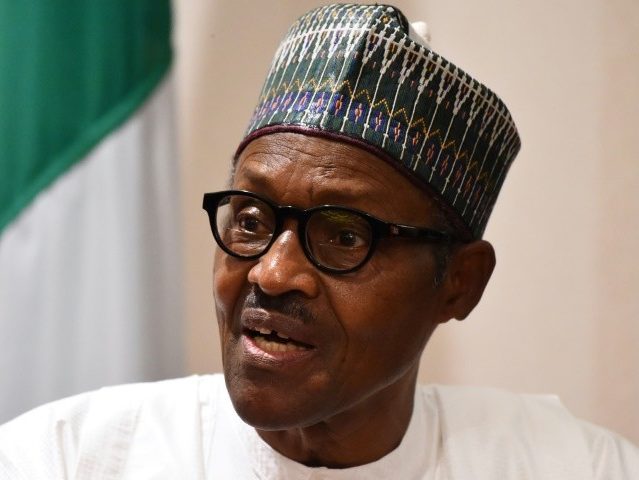 Nigerian President Muhammadu Buhari issued a defiant rejection of rumors that he had died and secretly been replaced by a clone during remarks in Poland on Sunday.
Buhari is in the eastern European nation to attend a climate change conference, though he stopped for an event geared toward the Nigerian public on Sunday.
Buhari made the remarks during an open question session in which aides read him questions from the Nigerian public. Nigerian social media has recently been home to a vigorous debate on whether the 75-year-old Buhari, prone to long absences from the country to receive unspecified medical care, died long ago and was replaced with "Jibril," a clone from Sudan. Some rumors identify Jibril as a Chadian replacement for the Nigerian president. Few provide any details regarding who did the cloning and how they successfully managed to create a 75-year-old man during Buhari's absence last year.
"One of the questions that came up today in my meeting with Nigerians in Poland was on the issue of whether I've been cloned or not," Buhari said on Twitter, sharing a video of his answer. "The ignorant rumors are not surprising."
Buhari added a lament that Vice President Yemi Osinbajo also faced scrutiny on whether he should have assumed the presidency instead of the clone when Buhari died.
Poor @ProfOsinbajo, even he had to deal with the rumours — Some people reached out to him to consider them to be his Vice President because they assumed I was dead. That embarrassed him a lot; we discussed it when he visited me while I was convalescing.

— Muhammadu Buhari (@MBuhari) December 2, 2018
"A lot of people hoped that I died during my ill health. It is real me… I will soon celebrate my 76th birthday and I will still go strong," Buhari said in Poland in response to the question. Buhari referred to those spreading the rumors as "ignorant" and "irreligious."
Buhari's response is the highest-level denial of the claims he had died, but not the first. Nigeria's Minister of Information Lai Muhammad told reporters that the claims were "idiotic."
"I don't see any serious government responding to that," Muhammad added, arguing that Buhari "remembers memos he had seen or heard about in 1985 and we say he is cloned."
Buhari took control of the country in a coup from late 1983 to 1985, himself removed by coup, before becoming the first president to assume the head of Nigeria's government after a free election in 2015. Nigerian officials insist that Buhari still cites and remembers details of government affairs from the time that he ruled the country.
The rumors that Buhari was critically ill or already dead began to spread in mid-2017, when Buhari abruptly left to England to receive unspecified medical care. The government refused to clarify what ailed Buhari, how long he was expected to remain outside of the country, or how severe his illness was at the time. Reports suggested he may have been suffering from a form of cancer, but no confirmed details surfaced in public, only notes from First Lady Aisha Buhari that the president was "recovering fast," without explaining from what. He spent over 150 days out of the country on "medical leave" last year, as Quartz notes.
Buhari ultimately returned to Nigeria after more world travel in May 2018, before leaving again this summer and returning from a "vacation" in August. He visited the White House to meet with U.S. President Donald Trump in May before "disappearing" once again. Reporters protested that the government made no official information on the president's whereabouts available for days.
Buhari won the 2015 presidency on a promise to use his experience as dictator to fight back hard against Boko Haram, the Islamic State affiliate responsible for thousands of deaths and hundreds of thousands of displacements in northeastern Nigeria. Buhari has repeatedly declared victory against Boko Haram throughout his presidency, first in December 2015, seven months after his election, and most recently in October. Yet Boko Haram remains a persistent threat to Nigerian civilians and soldiers alike.
The Nigerian newspaper Vanguard reported on Monday that Boko Haram terrorists attacked a Nigerian military tank base over the weekend, killing at least two soldiers and setting the military base's main building on fire. Boko Haram terrorists have also continued to raze villages, killing Christians and kidnapping girls and women to use as suicide bombers.
Buhari has received criticism not only for failing to stop these attacks but arguably enabling them with a terrorist "rehabilitation" program that has seen over 1,200 detained Boko Haram members freed after allegedly completing a program to reintegrate them into society.
Follow Frances Martel on Facebook and Twitter.
http://feedproxy.google.com/~r/breitbart/~3/ZntmBa3l4Kg/