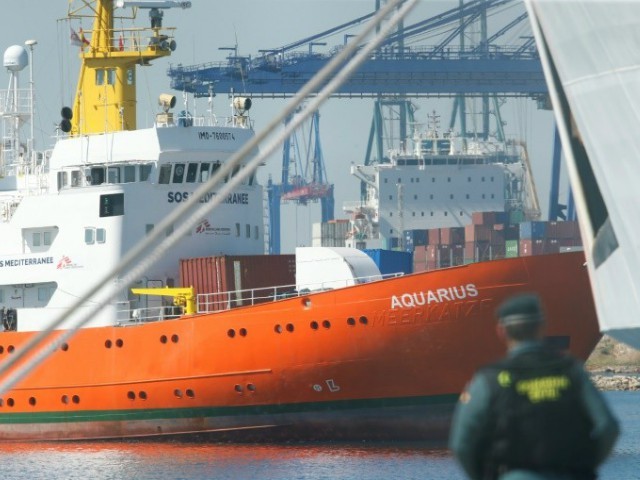 The Italian populist coalition government has ordered the seizure of the migrant transport ship Aquarius after accusing the NGO operating the vessel of dumping toxic materials potentially linked to diseases such as HIV and Tuberculosis.
The Italians ordered the seizure of the vessel operated by NGO Médecins Sans Frontières (MSF), which is currently in the French port of Marseille, claiming that MSF had illegally dumped 53,000lbs of waste in 11 different Italian ports, ANSA reports.
The material, which was dumped in at least 44 separate incidents according to investigations, consisted of medical waste that was not separated from ordinary refuse and had the potential to be infected with diseases reportedly prevalent among the migrants transported aboard the vessel.
According to the Catania prosecutor, there were "5,088 health cases at infectious risk out of 21,326 migrants disembarked" from the vessel including cases of scabies, HIV, tuberculosis, and meningitis.
Doctors Without Borders President Accuses Salvini, Orban of Creating Migrant 'Humanitarian Crisis' https://t.co/EATEprV7fq

— Breitbart London (@BreitbartLondon) September 29, 2018
The prosecutor added that the waste was left unsorted, and potentially hazardous to those working with the material, in order to save the NGO around 460,000 euros (£41,000/$52,000) in specialist waste processing fees — an amount which the Italians have also ordered to be seized from the NGO.
In reaction to the news, populist interior minister Matteo Salvini wrote, "I was right to stop the NGOs' ships," and added, "Not only did I stop the trafficking of migrants but, according to what has emerged, I stopped the trafficking of toxic waste too."
MSF head of emergencies Karline Kleijer spoke out about the seizure order saying, "After two years of defamatory and unfounded allegations of collusion with human traffickers, judicial investigations, and bureaucratic obstacles against our humanitarian work, we are now accused of organised crime aimed at illicit waste trafficking," and claimed the group had followed standard procedures.
The seizure of the Aquarius could be the final blow for the migrant transport NGO which has been denied access to Italian ports.
The vessel was also forced to remove the flag of Gibraltar after it was revealed the group had ignored requests to halt search and rescue operations. Shortly after the move, the NGO gained permission to use the flag of Panama, but that too was revoked after pressure from the Italian government in September.
Follow Chris Tomlinson on Twitter at @TomlinsonCJ or email at ctomlinson(at)breitbart.com
http://feedproxy.google.com/~r/breitbart/~3/0nvFsvWPI1w/