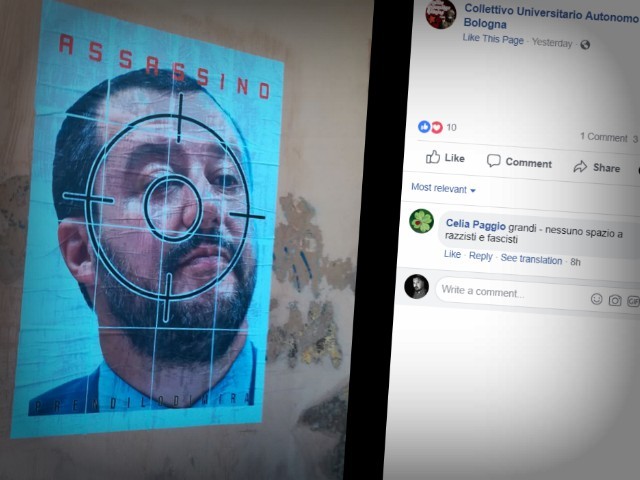 Members of the far-left Autonomous University Collective (CUA) have sparked controversy after releasing posters of populist Italian interior minister Matteo Salvini calling for his assassination.
The far-left group debuted the poster at a university event in Bologna this week which bears the caption, "Assassin. Take aim at this," and shows a picture of Salvini with a target around his head, Il Giornale reports.
In a Facebook post, the group wrote, "Today, from via Zamboni, the heart of the university area, the cry of hostility and contempt for racism and the supremacist policies put in place by the new interior minister in recent months has risen."
The group also claimed that Salvini promoted "policies of hatred, exclusion and white supremacism", because of Salvini's tough stance on mass illegal migration.
The populist La Lega leader was quick to respond to the far-left activists, writing on social media: "In Bologna, the usual children of fathers of the Self-managed social centres put a viewfinder on me with the inscription Assassin. What a pain. I think a few months of civilian or military service would do them good, what do you think?"
'I'm Not Backing Down': Italy's Salvini Stands Firm Over Migrant Boat Arrivals https://t.co/TO2ZYQVDlH

— Breitbart London (@BreitbartLondon) August 24, 2018
Virgilio Merola, mayor of Bologna, also slammed the posters, saying: "Bologna does not threaten and does not hate anyone. Who does it is against Bologna. I certainly do not agree with Salvini's policy, but I do not need to use words of hate."
According to local La Lega politician Umberto Bosco, investigators and magistrates are currently deciding whether or not to press criminal charges.
The posters are the latest incident in the far-left campaign against Salvini, which have ranged from protests, to reporting Salvini for "hate crimes", to acts far more serious like the bombing of a Lega office in Treviso in August.
The far-left anarchist extremist group 'Santiago Maldonado Cell' took responsibility for the attack and are believed to have also bombed the barracks of the Italian Carabinieri in Rome in December of 2017.
Follow Chris Tomlinson on Twitter at @TomlinsonCJ or email at ctomlinson(at)breitbart.com
http://feedproxy.google.com/~r/breitbart/~3/UDdPyGxXsVE/