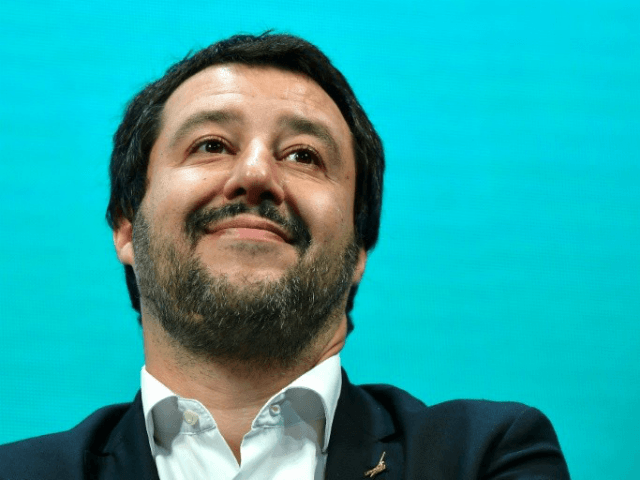 Italian populist interior minister Matteo Salvini has expressed support for the grassroots anti-Macron Gilets Jaunes (Yellow Vest) movement.
Interior Minister Salvini posted a clip from Italian public broadcaster RAI on Twitter that featured a member of the Yellow Vest movement chanting, "Salvini! Salvini" behind an Italian reporter covering the protests that took place in the French capital of Paris on Saturday.
Salvini commented on the video saying, "It's nice to know you have supporters even among the French tired of Macron…"
Fa piacere sapere di avere sostenitori anche tra i francesi stanchi di Macron… Ƕ pic.twitter.com/RtqgUgVKl8

— Matteo Salvini (@matteosalvinimi) November 25, 2018
One of the most vocal supporters of the Yellow Vests has been Rassemblement National (National Rally) leader Marine Le Pen, who is also a close ally of Salvini with both leaders meeting and promising to combine their efforts into a "freedom front" ahead of the European Parliament elections next May.
PICTURES: 'Yellow Jackets' Clash With Police as French Protest Macron's Fuel Tax Hikes https://t.co/EK99oxYelf

— Breitbart London (@BreitbartLondon) November 24, 2018
Le Pen has also extensively commented on the Yellow Vest protest in Paris, telling media that she condemned the violence seen on the Champs Elysees saying, "Of course we condemn the violence. But often, this violence emanate from the same: the black blocs, the "Antifa" groups. The most serious violence comes from these extreme leftist groups."
According to broadcaster RTL, many of those arrested were members of far-left extremist groups and had come to the protest simply to do damage.
The comments from Salvini come after President Emmanuel Macron identified him and Hungarian Prime Minister Viktor Orbán as his main ideological opponents in the European Union.
"I will not give anything away to the nationalists and those who defend hate speech," Macron said in August, adding, "If they want to see me as their chief adversary, they are right."
Salvini and Prime Minister Orbán also met earlier this year and promised to cooperate with each other, with Orbán going as far as revealing that he believed Salvini to be a "hero", and adding that he believed the Italian to be "a companion of my destiny."
Follow Chris Tomlinson on Twitter at @TomlinsonCJ or email at ctomlinson(at)breitbart.com
http://feedproxy.google.com/~r/breitbart/~3/v2uRUEO04DU/