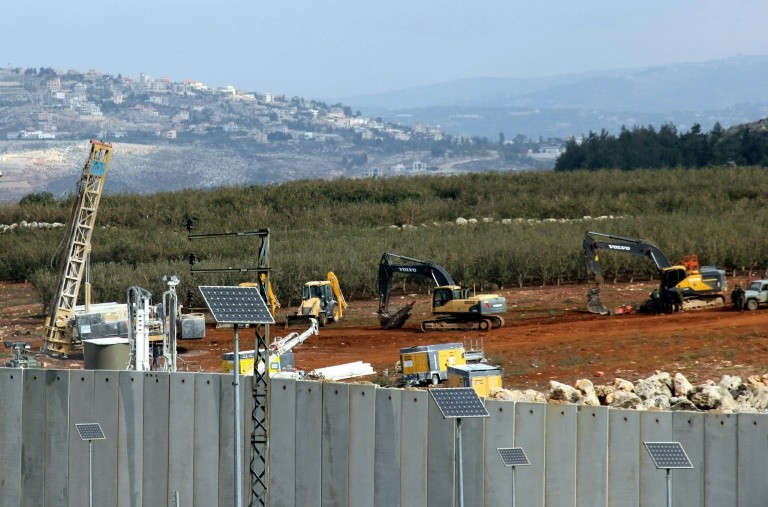 TEL AVIV – A second cross-border terror tunnel was uncovered Thursday in the western Galilee, the IDF said. 
Israel demanded UN peacekeeping force UNIFIL destroy the tunnels on the Lebanese side of the border.
The tunnel originated under a residential building in the southern Lebanese village of Ramieh. It crossed into Israeli territory near the Galilee village of Zarit, the military said.
IDF spokesperson Lt. Col. Jonathan Conricus stated: "The tunnel from Ramia that crosses into Israel does not constitute an immediate threat."
According to Conricus, earlier Thursday Israel provided UNIFIL's commander with a map and data regarding the newly-uncovered tunnel.
IDF Northern Command chief Maj. Gen. Yoel Strick slammed Hezbollah for violating UN Resolution 1701, which ended the 2006 Second Lebanon War.
Earlier on Thursday, a senior Israeli official said that Israel may need to take action inside Lebanon in order to achieve the goals of its ongoing operation on the northern border and destroy Hezbollah's attack tunnels.
"It is possible that we will be required to act inside Lebanon," the official, speaking on condition of anonymity, said according to a translation of his comments by the Times of Israel.
The cross-border tunnels "are wider and larger, and their goal is to transfer battalions, large forces, into Israeli territory, in order to come in and carry out a killing spree and kidnappings and to capture villages," he said.
He added that the decision to launch Operation Northern Shield earlier this week was out of concern that details of the operation would be leaked to Hezbollah.
"If Hezbollah knew that we knew [about the existence of the tunnels] then this would accelerate their kidnapping efforts, and we did not want to get to a situation where the kidnappers infiltrate into Israel and abduct a soldier or a civilian, and no one would know anything about it," the senior official said.
He also stated that the northern operation was one of the reasons the cabinet decided not to launch a major offensive against Hamas in Gaza following a barrage of 460 rockets in a 48-hour period last month, the official added. "There were other reasons too, but that was one of them," he said.
Also on Thursday, the Jerusalem Post quoted another official saying that Russia has deployed forces on the Syrian-Lebanese border with the aim of preventing the transfer of weapons and precision-guided technology to Hezbollah.
According to the unnamed diplomatic source, Russian and Israeli efforts inside Syria have seriously impacted Hezbollah's missile program, with the terror group only managing to convert a "few dozen" ordinary missiles into precision-guided ones.
Hezbollah had hoped by now to have converted thousands of missiles out of an estimated 140,000, the source said.
The comments came as Prime Minister Benjamin Netanyahu briefed a group of foreign diplomats on the northern border.
"Israel's expectation is unequivocal condemnation of Hezbollah, additional sanctions on Hezbollah, and condemnation and demand from the Lebanese government to stop granting permission to use its territory for these attacks on Israel," he told 25 senior ambassadors from around the world.
"We are denying our enemies the weapon of tunnels systematically and decisively," he said. "What we are doing with Hamas and with Hezbollah as well — we're doing everything we need to do."
"Anyone who attacks us — is taking his life into his hands," he added. "Hezbollah knows this and Hamas knows that too."
By the time the IDF's operation is over, Hezbollah's attack tunnels "will no longer exist," the prime minister vowed.
Netanyahu also pointed to the hegemonic and nuclear aspirations of Hezbollah's state-sponsor Iran.
"What we're facing is one big enemy. That enemy is called Iran," he said.
"Iran is trying to act on two levels: one is to develop a nuclear arsenal. We are dealing with that with other means including exposing the nuclear archive and the secret nuclear warehouse in Tehran. The second thing that Iran is doing is developing conventional weapons against us in their declared war to annihilate Israel. They declare so openly everyday."
The UN and EU have condemned Hezbollah's actions and expressed support for Operation Northern Shield.
"The building of tunnels from one country to another for military purposes is wholly unacceptable," Stephen Dujarric, the spokesperson for UN Secretary General Antonio Guterres said Wednesday.
http://feedproxy.google.com/~r/breitbart/~3/qmXleMBWpGk/