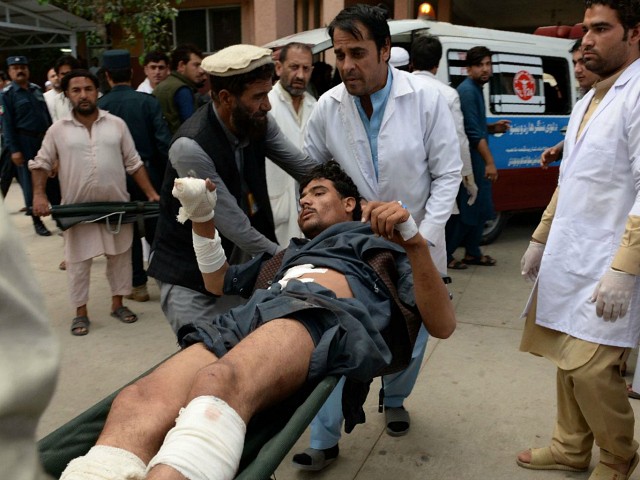 The Islamic State (ISIS/ISIL) branch in Afghanistan claimed responsibility for Tuesday's suicide bombing at an election rally in the eastern Afghan province of Nangarhar, home to the terrorist group's most prominent stronghold in the region.
According to various media accounts, the Islamic State attack killed up to 14 people and wounded more than 30 others.
"A suicide bomber attacked an election rally on Tuesday in the eastern Afghan province of Nangarhar, killing at least 14 people and once again highlighting security concerns as candidates prepare for an Oct. 20 parliamentary vote amid a raging war," the New York Times (NYT) noted.
The attacker reportedly targeted an election campaign event organized by parliamentary candidate Nasir Momand.
"Elders were speaking at the meeting when there was suddenly a huge blast," said Sayed Humayoun, who had been at the rally in Nangarhar's Kama district, outside the provincial capital Jalalabad, according to Reuters.
"I was knocked unconscious but when I opened my eyes there were bodies scattered all around the blast area," he said, adding that he could see scores of people dead and injured.
The campaigning season began on Friday and officials have warned of an increase in terrorist attacks during the elections.
Reuters reported:
The parliamentary election, delayed by three years, comes amid rising violence nationwide. Attaullah Khogyani, spokesman for the provincial governor in Nangarhar, said at least 13 bodies were taken to hospitals, but others said the toll was likely to be higher … Around 250 people had been at the rally, said Sohrab Qaderi, a member of the provincial council, adding that at least 30 were killed and dozens more wounded.
ISIS reportedly claimed it was behind the attack in a statement carried by its Amaq news agency.
According to the U.S. military, Nangarhar province houses ISIS's top stronghold in South Asia.
In June, Brig. Gen. Lance R. Bunch, the top U.S. air commander in Afghanistan, noted that the ISIS has repeatedly attempted to "establish" its own "caliphate" in Nangarhar, located along the Pakistan border.
The ISIS branch in Afghanistan, known as the Khorasan Province (ISIS-K), is believed to have 1,000 fighters in the region, down from a peak of 3,000, Voice of America (VOA) reported in August.
According to a report from the United Nations Mission in Afghanistan (UNAMA) issued in June, ISIS-K was behind more than 50 percent of civilian casualties in the war-ravaged country through the first half of 2018.
The National Consortium for the Study of Terrorism and Responses to Terrorism (START), an assessment of worldwide terrorist activity often cited by the U.S. State Department, listed ISIS-K among the top ten deadliest terrorist group's in the world last year.
Citing the Independent Election Commission, Al Jazeera reported that terrorists have killed five candidates so far, warning that "there are fears violence will escalate."
"More than 2,500 candidates will contest the ballot, which is seen as a test run for next year's presidential election," the news outlet noted.
"Some 54,000 members of Afghanistan's security forces will be responsible for protecting more than 5,000 polling centers on election day. More than 2,000 polling centers that were supposed to open will be closed for security reasons," Al Jazeera added.
http://feedproxy.google.com/~r/breitbart/~3/q1SL1g6XkEs/