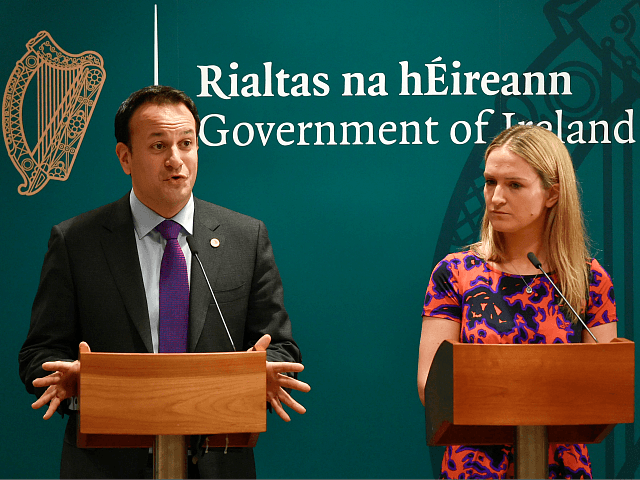 The Irish government has suggested Theresa May is willing to commit Britain to open-ended 'backstop' membership of the EU's Customs Union, according to the BBC.
The backstop is a proposed mechanism to keep the United Kingdom in the EU's Customs Union after Brexit — essentially precluding the country from taking back control of its international trade policy — in order to prevent a hard economic border between the British province of Northern Ireland and EU member the Republic of Ireland.
The proposal is deeply unpopular with Brexiteer Tories, with the dispute over it compounded by the EU demanding a 'backstop to the backstop' — i.e. a guarantee that Northern Ireland alone be kept in the Customs Union if problems emerge with a UK-wide one, creating barriers between the Province and the British mainland.
Brexit: Only 22 Percent of Northern Irish Back Leaving Britain to Join EU Ireland https://t.co/du03ZuNQNf

— Breitbart London (@BreitbartLondon) June 15, 2018
"I think we are both of the understanding that [the backstop] is an insurance policy and obviously we want to address all of these issues in a future relationship," Helen McEntee, Irish Taoiseach (prime minister) Leo Varadkar's Europe minister, told BBC Radio Ulster's Good Morning Ulster programme, following intra-EU discussions.
"One that ensures we don't have any kind of a border and one that protects the peace process, however, we have to have that insurance policy, and Theresa May reaffirmed her commitment to it last night.
"Support for Michel Barnier [EU negotiator] to continue the negotiations is strong, support for Ireland and the Irish backstop is still very strong," she claimed — although some countries such as Poland and Hungary have suggested they are concerned Brussels is pushing for too many concessions and could damage EU member-states if it fails to offer Britain a comprehensive free trade agreement.
Boris, Mogg, and David Davis Tell PM Her Deal 'Is Not Brexit', Warn Public 'Will Not Forgive Us' https://t.co/4iacgxwq9o

— Breitbart London (@BreitbartLondon) October 18, 2018
McEntee's claims come as senior Brexiteers within the Tory Party including former Brexit Secretary David Davis, former Foreign and Commonwealth Secretary Boris Johnson, and European Research Group (ERG) leader Jacob Rees-Mogg publish an open letter to the Prime Minister warning that her Brexit plan in general and backstop proposal(s) in particular are unacceptable and will not pass the House of Commons.
Northern Ireland's Brexit-supporting Democratic Unionist Party (DUP), too, which Mrs May's minority government depends on to pass its legislative programme, has warned it will brook absolutely no economic or regulatory barriers between Northern Ireland and the British mainland, with DUP MEP Diane Dodds telling the BBC her party "want[s] a Brexit that is good for the [British] Union in all of its constituent parts, but that also respects the constitutional and economic integrity of Northern Ireland".
Follow Jack Montgomery on Twitter:

 @JackBMontgomery
Follow Breitbart London on Facebook:

 Breitbart London
http://feedproxy.google.com/~r/breitbart/~3/avT-sEsJQnM/