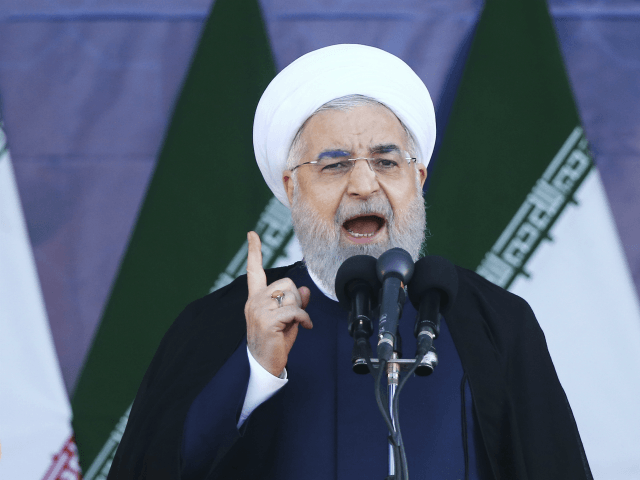 Israel is a "cancerous tumor" established by Western countries to advance their interests in the Middle East, Iran's President Hassan Rouhani said Saturday, before calling on Muslim nations to unite and fight the U.S.
Addressing an annual Islamic Unity Conference in Tehran, Rouhani lamented "one of the negative results of World War II was the formation of a cancerous tumor in the region."
He then went on to scold the U.S. and urged Muslim nations to unite and "band together in reality and practice…there is no way but to remain united, and you will win over the Zionists and the Americans if you remain united."
Israeli Prime Minister Benjamin Netanyahu responded later in the day, saying "Rouhani's slander, which calls for the destruction of Israel, proves yet again why the nations of the world need to join in the sanctions against the Iranian terrorist regime which threatens them."
Rouhani said the U.S. cultivates close ties with "regional Muslim nations" to protect Israel, an apparent reference to Iran's regional rival Saudi Arabia and the kingdom's Sunni Arab allies. He said bowing to American pressure amounts to "treason."
He added Iran was prepared to defend Saudi Arabia from "terrorism and superpowers."
"We do consider you as a brother," he said. "We do consider the people of Mecca and Medina our brothers," he added, referring to Islam's two holiest cities, in Saudi Arabia.
Washington reimposed sanctions on Tehran earlier this month, after U.S. President Donald Trump pulled out of a 2015 international nuclear deal with Iran brokered by Barack Obama.
— Donald J. Trump (@realDonaldTrump) November 2, 2018
Rouhani's challenge to the Muslim world comes just two days after an Iranian Revolutionary Guards commander warned the U.S. its bases in Afghanistan, the UAE and Qatar, and U.S. aircraft carriers in the Gulf are within range of Iran missile strikes.
Amirali Hajizadeh, head of the Revolutionary Guards' airspace division, said Iranian missiles stand ready to respond if America uses military force against Tehran.
He singled out U.S. bases and aircraft carriers for special mention as possible targets, naming Al Udeid Air Base in Qatar, Al Dhafra base in the United Arab Emirates and Kandahar base in Afghanistan that host U.S. forces.
Follow Simon Kent on Twitter:

Follow @SunSimonKent

or e-mail to: skent@breitbart.com



http://feedproxy.google.com/~r/breitbart/~3/XrUDxNS9NZ4/