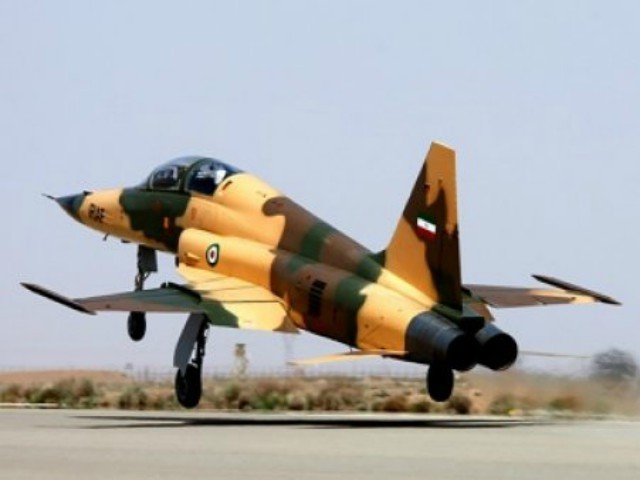 Iran started production of its new domestically produced fighter jet on Saturday, two days befor the reimposition of remaining U.S. sanctions designed to isolate the Islamic Republic.
The fourth-generation HESA Kowsar appears based on the American F-5 Tiger fighter, made by Northrop-Grumman in the 1950s. State media said it had "advanced avionics" and multi-purpose radar, and that it was "100-percent indigenously made" for the first time.
Defense Minister Gen. Amir Hatami applauded the capabilities of Iranian experts despite "sanctions by enemies," according to local outlet Press TV. Hatami said the Kowsar fighter was "the very symbol of fighting the [global] arrogance and standing against the excessive demands of the imperial system, which is being led by the Great Satan, the United States."
Iran promotion of HESA Kowsar upgrade assembly line; extending service life for the F-5E/F Tiger II type aircraft, originally built by Northrop and exported to Iran during the mid 1970's. pic.twitter.com/lMDVJ496MS

— Mark Pyruz (@INTELonIRAN) November 3, 2018
Speaking at an industrial complex in the Isfahan province, Hatami added that the "fourth-generation" fighter, with "advanced maneuvering capability" and multi-purpose radar would be service the entire Iranian Air Force "soon."
The Trump administration's latest sanctions take effect Monday and cover Iran's shipping, financial and energy sectors. They are the second batch the administration has reimposed on Tehran since Trump withdrew from the JCPOA international accord in May.
Iran defense officials say the Kowsar has already been through successful testing and showed footage of the plane on the runway, though the broadcast stopped before the plane took off. They deny its design origins lie in 1950s U.S. defense technology despite many doubting the veracity of that claim.
النظام الإيراني يكشف النقاب عن طائرة #كوثر ويدعي أنها "أول مقاتلة إيرانية محلية الصنع %100" ويتفاخر بقدراتها الهجومية النوعية ولكنني رأيت على الفور أن هذه هي طائرة حربية أمريكية قديمة جدا (صنعت في أواخر الخمسينات) من طراز F-5 خرجت منذ عقود من الخدمة… الكذب حبله قصير… pic.twitter.com/Mb8plEjlxr

— Ofir Gendelman (@ofirgendelman) August 21, 2018
The F-5 it replaces was sold to Iran in the 1960s and first entered operation in the Iranian Imperial Air Force in 1965. In the West, the F-5 line of jets is mostly used for training purposes.
Iran also began purchasing dozens of F-14 Tomcats from the U.S. in 1976. The country's air force has both American and Russian-made fighter jets in service.
Before the 1979 Islamic Revolution many Iranian pilots received their training in the U.S.
Follow Simon Kent on Twitter:

Follow @SunSimonKent

or e-mail to: skent@breitbart.com



http://feedproxy.google.com/~r/breitbart/~3/vqrJ3K8Wr0A/