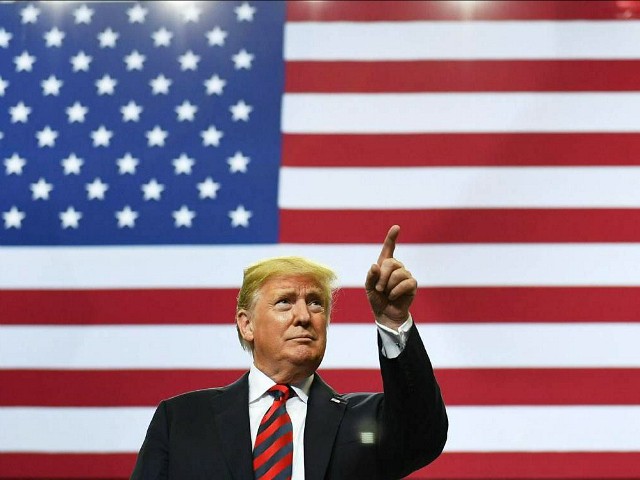 Tariffs are not pinching consumers.
Despite widespread fears that the Trump administrations tariffs would push consumer prices higher, inflation is actually cooling down. The consumer price index rose 0.1 percent in September, the government said Thursday. That was below the consensus estimate of 0.2 percent.
Compared with a year ago, consumer prices are up just 2.3 percent. In August, prices were showing a 2.7 percent annual gain. July and June registered 2.9 percent. That is a significant slow down in inflation.
September's numbers were yet another vindication of Commerce Secretary Wilbur Ross claim that consumers wouldn't be hurt by tariffs. When President Donald Trump announced tariffs on steel and aluminum, Ross went on CNBC with cans of Campbell's Soup and a can of beer and argued that the new duties would have minimal effects on consumer prices. Thursday's report shows he was right.
The price of soup fell 1.4 percent on a seasonally adjusted basis. Compared with a year ago, the price of soup is down 3.8 percent.
The price of "beer at home" rose 0.5 percent in the month, and is up just 1.1 percent compared with a year ago.
But it is not just beer and soup that are defying dire predictions that consumers would be squeezed by tariffs.
The price of home appliances rose 0.2 percent on a seasonally adjusted basis, up 2.9 percent compared with a year ago. The price of major appliances fell 0.6 percent in September, the second consecutive monthly decline and a strong indicator that earlier price pressures have fallen off. For the year, these are up 7.7 percent.
One of the things that had been pushing up the appliance category was a big rise in the price of washing machines, which are subject to an anti-dumping tariff not related to the steel and aluminum tariffs. But even with washing machines, the price level is coming down. It dropped 3.8 percent in September, the second consecutive monthly decline. The year over year increase has fallen down to 10.6 percent.
The auto sector also shows no signs of tariff driven inflation. Prices of new cars and trucks fell 0.1 percent in September. Truck prices were down 0.3 percent. On an annual basis, car and truck prices are up just 0.5 percent.
Tariffs are not causing prices on consumer technology to rise either. Personal computer prices are down 2.6 percent for the year. Phone prices are down 6.5 percent.
Television prices have fallen by 13.5 percent from a year ago, tumbling 1.9 percent in September. That contrasts sharply with a study in April from National Retail Federation and Consumer Technology Association estimating that Trump's tariffs would force consumers to pay hundreds of millions of dollars more for televisions.
The inflation figures suggest that businesses cannot easily pass through to consumers higher prices of commodities or even foreign manufactured electronics. Although often tariffs have often been described as "a tax on consumers," there's little evidence to support that description.
http://feedproxy.google.com/~r/breitbart/~3/-pDGf0fcY0E/