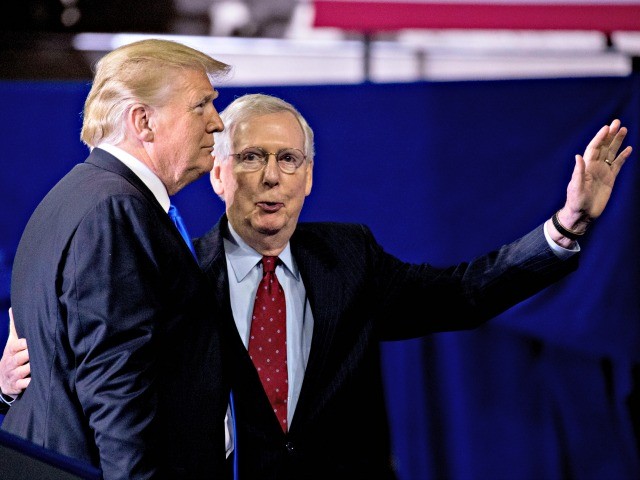 President Donald Trump praised Senate Majority Leader Mitch McConnell during a Kentucky campaign rally on Saturday, demonstrating Republican unity to his supporters.
"There's nobody tougher, there's nobody smarter," Trump said about McConnell during the rally. Sen. Rand Paul and Governor Matt Bevin also attended.
Trump praised McConnell as a "rock ribbed" leader that was "Kentucky tough" and thanked him for helping get Justice Brett Kavanaugh confirmed to the Supreme Court.
"He stared down the angry left-wing mob, he never blinked and he never looked back," Trump said as the crowd roared with approval.
McConnell took the stage briefly to highlight the record 84 new federal judges confirmed through the Senate.
"Keep sending them our way, and we'll keep confirming them and change the court system forever!" McConnell said.
Trump praised McConnell for his work in the Senate, noting that McConnell would be running for re-election in 2020.
"He goes down as the greatest leader, in my opinion, in history," he said. "What we've done is incredible together."
He added with a grin, "He's better when I'm president than he ever was when anybody else was president."
http://feedproxy.google.com/~r/breitbart/~3/-55Fk-7bPEs/