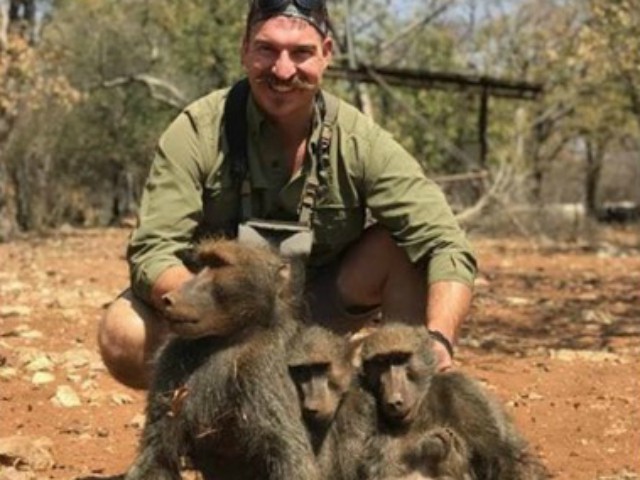 Idaho Fish and Game Commissioner Blake Fischer resigned his position after a photo of him smiling with dead baboons sparked a public backlash.
The Hill reports that Fischer submitted a letter of resignation to Gov. "Butch" Otter (R), which said in part:
I recently made some poor judgments that resulted in sharing photos of a hunt in which I did not display an appropriate level of sportsmanship and respect for the animals I harvested. While these actions were out of character for me, I fully accept responsibility and feel it is best for the citizens of Idaho and sportsmen and women that I resign my post.
The Idaho Statesman reported that Fischer hunted the baboons in Africa last month. Upon sharing photos of the hunt he immediately faced calls for his resignation. Even former Fish and Game commissioners asked him to resign.
Former commissioner Fred Trevey emailed Fischer saying, "I'm sure what you did was legal, however, legal does not make it right."
Another former commissioner, Tony McDermott, said he concurred with Trevey's call for Fischer to resign. However, the Statesman could not reach McDermott for comment because he was on a hunting trip.
Fischer did not apologize for the hunt. Rather, he explained that hunting is part of species management: "I didn't do anything illegal. I didn't do anything unethical. I didn't do anything immoral … I look at the way Idaho's Fish and Game statute says we're supposed to manage all animals for Idaho, and any surplus of animals we have we manage through hunting, fishing and trapping. Africa does the same thing."
On December 6, 2017, Breitbart News reported that huntress Nikki Tate received death threats after posting photos of her hunting adventures.
When Tate faces criticism she tells the critics, ""I hunt for food, conservation, friendship, and so much more, all of which are very important to me. If I can respect others' beliefs, values, and reasons, even those that involve human life and death, please respect mine."
AWR Hawkins is an award winning Second Amendment columnist for Breitbart News, the host of the Breitbart podcast Bullets, and the writer/curator of Down Range with AWR Hawkins, a weekly newsletter focused on all things Second Amendment, also for Breitbart News. He is the political analyst for Armed American Radio. Follow him on Twitter: @AWRHawkins. Reach him directly at awrhawkins@breitbart.com. Sign up to get Down Range at breitbart.com/downrange.
http://feedproxy.google.com/~r/breitbart/~3/yJ9xjJJBiic/