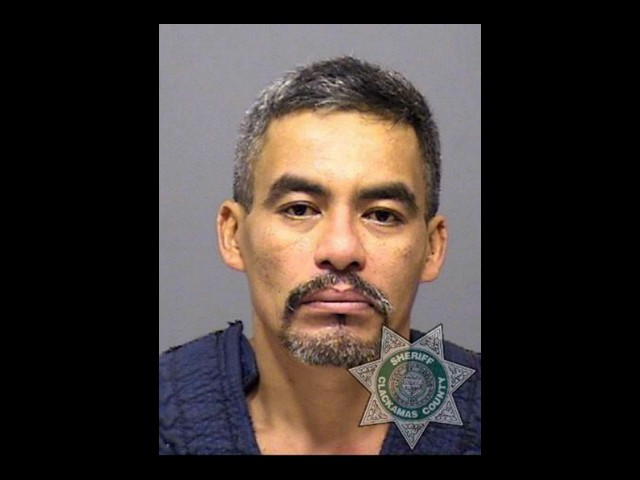 An illegal alien from Mexico accused of stabbing his wife to death on Sunday was released from an Oregon county jail seven months ago despite federal immigration authorities' request to deport him, immigration officials said.
Martin Gallo-Gallardo, 45, is facing murder charges in connection with the death of Coral Rodriguez-Lorenzo, 38, after authorities discovered her body in a ditch near a river east of Portland on October 28.
Authorities say Gallo-Gallardo was charged with murder for fatally stabbing Rodriguez-Lorenzo multiple times after an argument. The Mexican national pleaded not guilty to the murder charges Tuesday.
But immigration officials say this crime could have been prevented had Oregon law enforcement officials complied with federal immigration laws.
U.S. Immigration and Customs Enforcement (ICE) officials said immigration officials placed a civil detainer on Gallo-Gallardo when authorities discovered during an arrest in Portland seven months ago for felony domestic violence charges that the Mexican national was in the country illegally.
ICE said the Multnomah County Sheriff's Department did not honor immigration authorities' request to deport him because of Oregon's sanctuary laws.
"It's unfortunate that law enforcement agencies like the Multnomah County jail refuse to work with ICE to promote public safety by holding criminals accountable and providing justice and closure for their victims," said Tanya J. Roman, a spokeswoman for the ICE regional office that covers Oregon, Washington, Idaho, and Alaska.
But officials with Multnomah County said Friday they never received the detainer request from ICE and are not allowed to recognize civil detainer requests because of a 2014 federal court ruling.
Multnomah County Sheriff Mike Reese said Friday that his office did not receive the ICE detainer request faxed to his office due to an error in transmission.
The case comes as Oregon voters head to the polls Tuesday to decide if they will repeal the state's sanctuary city law, which prevents local law enforcement officials from detaining people arrested for immigration violations who have not been charged with other crimes. The law has been in place since 1987.
http://feedproxy.google.com/~r/breitbart/~3/A9LwKqYrHq0/