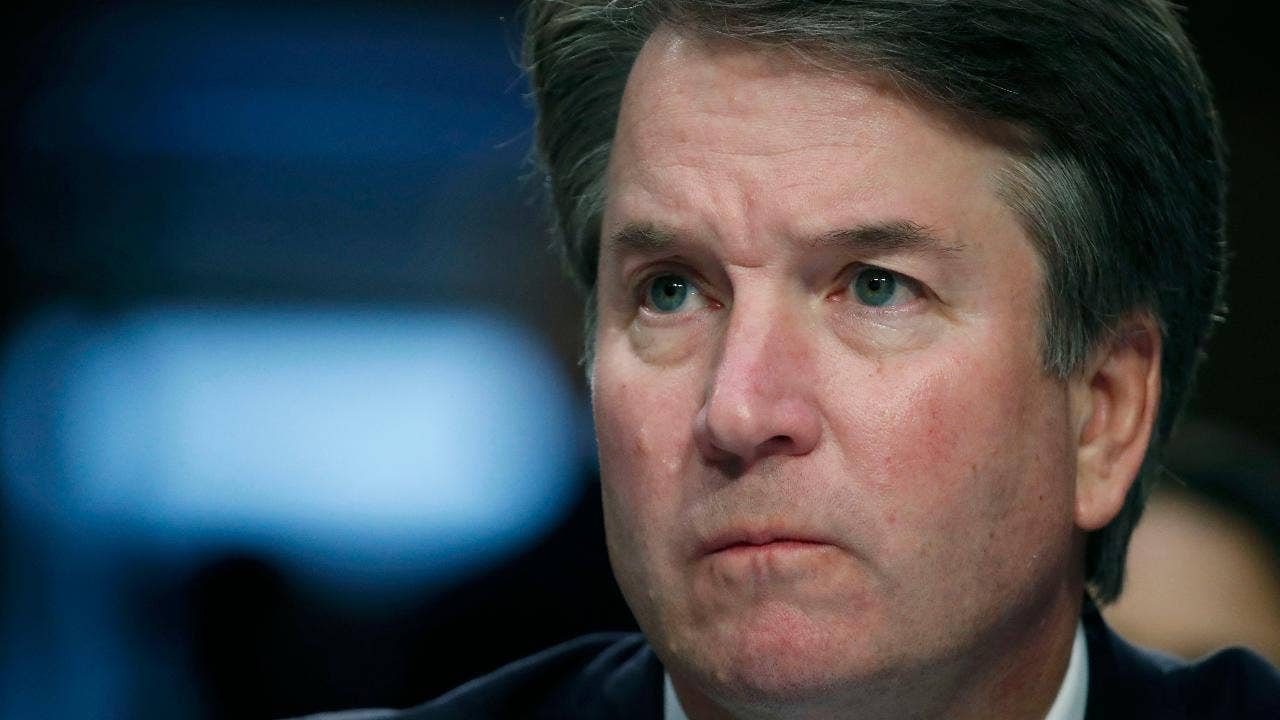 Hundreds of protesters descended on the offices of several senators and the Capitol Building on Monday, calling on lawmakers to block the confirmation of Supreme Court nominee Brett Kavanaugh amid new allegations of sexual misconduct.
Protesters lined the halls outside the offices of Sens. Susan Collins, R-Maine, and Jeff Flake, R-Ariz. – both undecided voters on the Senate Judiciary Committee and key to Kavanaugh's chances of being confirmed. Protesters also went to the office of Sen. Ben Sasse, R-Neb., and gathered in the Russell Rotunda inside the Capitol Building.
The protesters gathered outside Collins' office wore black "Be A Hero" shirts and chanted various slogans, including "We will not be silenced," "We believe the women" and "Vote no or we'll fund your opponent."  Members of the U.S. Capitol police arrested them one-by-one and led them away.
One of the protesters on hand was Marie Follayttar. She is co-director of a group that has raised money to give to Collins' election opponent in 2020 if she supports Kavanaugh. Follayttar was not among those arrested.
Monday's protests come a day after a new accusation against Kavanaugh landed late Sunday in a report from The New Yorker. The report was published just a few hours after negotiators had reached an agreement to hold an extraordinary public hearing Thursday for Kavanaugh and Christine Blasey Ford, who accuses him of sexually assaulting her at a party when they were teenagers. Kavanaugh denies the accusation.
The second claim against Kavanaugh dates to the 1983-84 academic year, which was his first at Yale University. Deborah Ramirez described the alleged incident after being contacted by The New Yorker magazine. She claimed that Kavanaugh exposed himself at a drunken dormitory party, thrust his penis in her face, and caused her to touch it without her consent as she pushed him away.
In a statement provided by the White House, Kavanaugh said the event "did not happen" and that the allegation was "a smear, plain and simple."
Coinciding with the protests in Washington, dozens of students at Yale Law School – Kavanaugh's alma mater — donned black and staged a sit-in on Monday to protest the judge's nomination. Yale officials cancelled classes to accommodate the demonstration.
Some 50 Yale faculty members have signed a letter to the Senate Judiciary Committee urging the Senate to conduct "a fair and deliberate confirmation process."
Defending Kavanaugh, presidential counselor Kellyanne Conway called the sexual misconduct allegations by two women against the judge "a vast left-wing conspiracy."
Conway noted Monday on CBS "This Morning" that Kavanaugh, in a statement Sunday, called the allegations a "smear campaign." She added, "This is starting to feel like a vast left-wing conspiracy."
Conway's rhetoric echoes Hillary Clinton's 1998 description of allegations that her husband, President Bill Clinton, had had affairs. She called them a "vast right-wing conspiracy."
The Associated Press contributed to this report.
http://feeds.foxnews.com/~r/foxnews/politics/~3/bYE1L0xakXw/hundreds-protesters-descend-on-capitol-hill-amid-new-kavanaugh-allegations.html