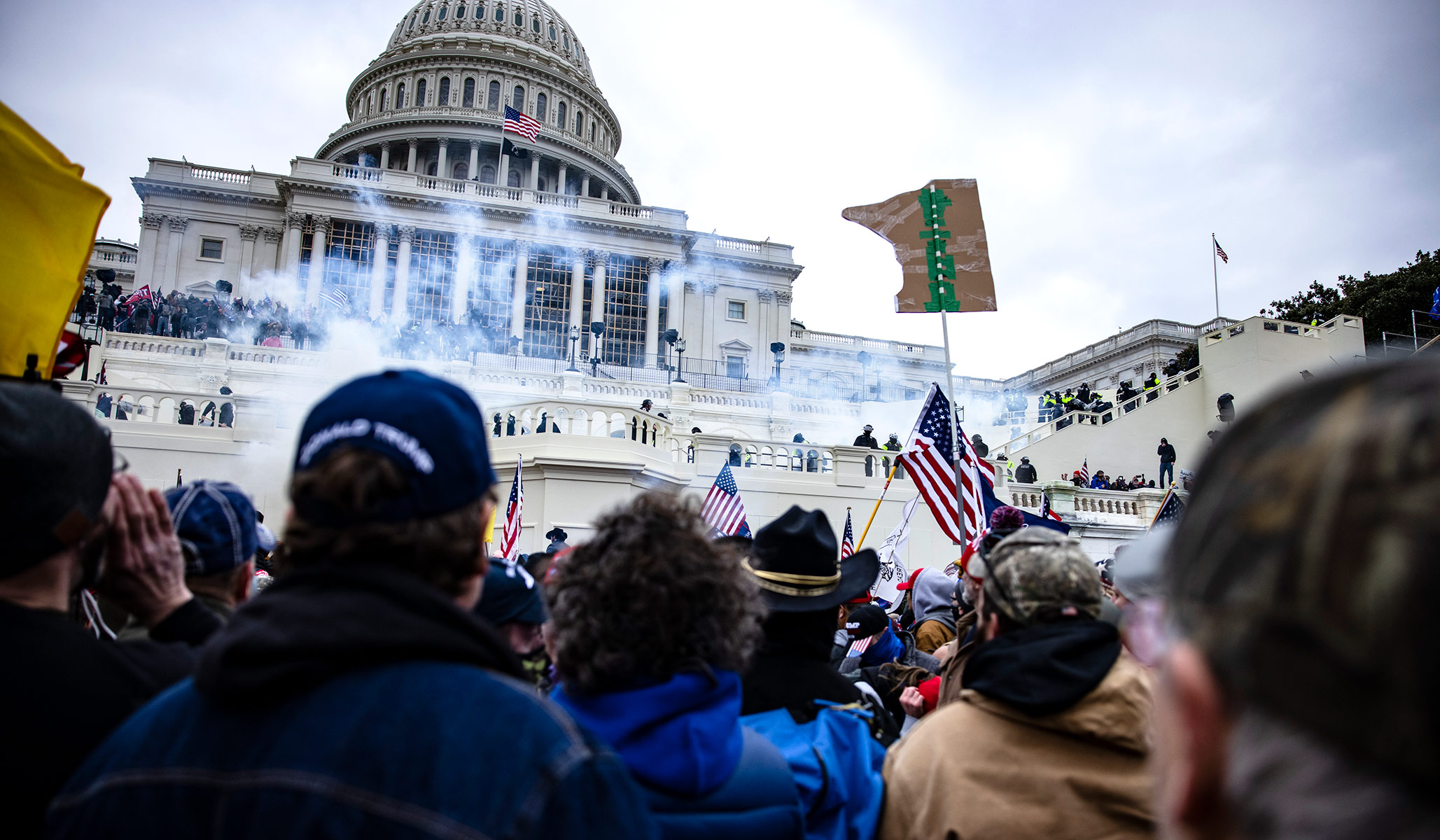 We've had a series of news items lately involving prominent Republicans reacting to January 6. Some have shown that they understand the politics better than others.
On the one hand, public-opinion polling has shown consistently that Americans disapprove of the January 6 riot by large margins. For example, a CBS News/YouGov poll found that 83 percent disapproved of the actions of those who forced their way into the Capitol (with 76 percent of Republicans disapproving, 34 percent of them strongly), and 68 percent saw the events of that day as a symptom of rising political violence. An ABC/Ipsos poll found that 72 percent believed that the attackers were "threatening democracy," including 52 percent of Republicans. A Washington Post/University of Maryland poll found that 54 percent of voters called the actions of those who entered the Capitol "mostly violent," and 51 percent said that they were not being punished enough. Republican voters, however, have declined from their initial strong support for prosecutions. Opinion has been, predictably, more divided on blaming Trump or seeing the rioters as typical of his supporters, but the Post/UMD poll found 60 percent of adults and 57 percent of independents blaming Trump. Across four polls in early 2022, an average of 63 percent favored the congressional investigation into January 6. A Politico/Morning Consult poll found 40 percent of Republican voters supporting the committee, and 44 percent opposed.
On the other hand, there is little reason to think that most voters share the obsessive focus on January 6 that possesses the Beltway press and political class. CNN's ratings are in the toilet. Voters shrugged off Terry McAuliffe's effort to run a gubernatorial campaign against Trump. Republicans have a historic lead in the generic congressional ballot. The 30,000 or so voters who deregistered as Republicans in the immediate aftermath of January 6 have been swamped by trends in registration and identification as Republicans; Gallup in late 2021 found party identification trending more Republican than at any time since 1995.
For a Republican politician, therefore, the political calculus ought to be easy. Voters don't like January 6 or the people who perpetrated it, so you should never rise in defense of either. But questions about who to blame, who to punish, how to investigate and even what to call the event remain divisive among Republicans, while most voters won't care if you just move on and talk about other stuff instead — the economy, education, foreign policy, cultural issues, etc.
Two House Republicans, Liz Cheney and Adam Kinzinger, have nonetheless continued to bang the drum of January 6 from their positions on the Democrat-run House committee investigating the riot. They have taken different political paths: Cheney, whose voting record is strongly conservative, is running for reelection in deep-red Wyoming even after being ousted from House leadership, and her criticisms have remained targeted. The moderate Kinzinger, redistricted out of his base by Illinois Democrats, is retiring from the House and has taken up the rhetoric of a man abandoning his party. I think Cheney's approach is admirable, but there is little question that it is placing her career in grave peril, and as a matter of the party's interest, there are fair grounds to argue that she should not be so eager to keep January 6 in the media spotlight. Kinzinger, by contrast, has effectively ended his career as a Republican — probably as an elected official — and clearly no longer cares what he does to the party or its causes.
Either way, there is no upside for the rest of the party to shine a floodlight on either of them. So, what did the Republican National Committee do? It produced a statement attacking "a Democrat-led persecution of ordinary citizens engaged in legitimate political discourse" and "Democrat abuse of prosecutorial power for partisan purposes" and censuring Cheney and Kinzinger while saying nothing at all against January 6. This was, for the reasons explained in our editorial, incredibly stupid and has forced Republicans to face a barrage of questions they did not want to answer. And because the RNC gave the media a gigantic hunk of red meat, any Republican who stayed silent would be helping the media get the headlines they wanted. RNC chair Ronna McDaniel has had to put out a series defensive, explanatory statements like this:
Let me be abundantly clear: as Chairman of the RNC, I have repeatedly condemned the violence that occurred at the Capitol on January 6th and do so again today. . . . The events of that day are deeply personal to me and our team as the FBI found a bomb outside of RNC headquarters that afternoon, and I will never forget what it felt like to know that my staff was in immediate danger. Violence has no place in our political discourse, period, and those who engaged in violence on January 6th and committed crimes should be held accountable with due process by the appropriate law enforcement authorities and prosecutors.
If you're explaining a statement you wrote, you're losing. Anybody with even the vaguest familiarity with American politics would have predicted with 100 percent certainty that the RNC statement would be read by the media exactly the way it was read by the media.
Mitch McConnell and other Senate Republicans have blasted the RNC statement. Given what the RNC said, that was necessary and prudent. Most of them had no particular interest in revisiting January 6, so they didn't raise the issue on their own — but when the RNC put the issue on the front burner, they reassured voters that the RNC doesn't speak for them on this.
For Mike Pence, the politics are different. Pence is out of office; the presidency is the only job he is likely to run for again, his odds there remain very long, and they are zero unless and until Trump has relinquished his grip on a significant number of Republican voters. There is no getting away from the fact that, after everything he sacrificed to be loyal to Donald Trump, Trump's diehards will never forgive Pence for doing the right thing when he was asked that day to rule against Biden's electors. Pence's chief interest, therefore, is in setting the record straight for posterity and winning the public argument with Trump, rather than on trying to keep everybody happy. So, it was not just right but prudent for Pence, when Trump took another potshot at him, to come back swinging on Friday at a Federalist Society event, where he gave a stirring defense of his fidelity to the Constitution.
Then, there is Ron DeSantis. DeSantis, in my view, got it half right and half wrong. What he got right, politically, was refusing to be drawn into the Trump-Pence fight. There was no upside to him wading into that. In terms of his reelection bid, that is a fight that divides his Florida base. In terms of DeSantis's national ambitions, his positioning is as the non-Trump who isn't anti-Trump: the guy who can unite the Trump coalition with the people who have been held off by Trump himself, whether those people are former Republicans or Republican-curious outsiders. If that sounds familiar, it's not that different from the path that George W. Bush took in 1998-2000 in uniting the Newt Gingrich party with the people who were turned off by the Clinton impeachment, or the path that Ronald Reagan took in 1974-80 in uniting Richard Nixon's supporters with people who were turned off by Watergate but disenchanted by Jimmy Carter.
The biggest obstacle in his path, however, is that Trump might decide not to step aside. But if Trump does run again and DeSantis runs against him, the best possible positioning would be to have Trump locked in a blood feud over the past with his own vice president, while DeSantis is the fresh face who owns the future. Sure, in an ideal world, everybody would stand strongly for the Pence position, but for those of us who want to move past Trump and replace him with someone who would not repeat Trump's worst behavior, it is heartening to see that DeSantis has been strategically shrewd in how he approaches peeling off Trump's base.
Where DeSantis made a misstep was going after Cheney. In a Fox News interview, he hit the right overall notes — Republicans should be united and avoid infighting, Democrats are grasping for topics that divide the party and change the subject, he's focused on the bread-and-butter concerns of Floridians — but added:
Liz Cheney is just totally off the rails with her nonsense. And I think she's not really a Republican in terms of terms of what she's doing. We want people that are going to fight the left, and that's what we need to do in this country.
DeSantis is savvy enough to have known what would follow — his shot at Cheney grabbed all the headlines from the interview. He could have made all the same points about staying future-focused and avoiding internal squabbles by just brushing off questions about Cheney, as he brushed off questions about Pence and the RNC resolution. It was a rare unforced error, placing him in between factions he normally tries to unite. It also suggests that DeSantis (unlike Pence) still has his eye on mollifying Trump in the hopes that if he shows enough willingness to criticize a few of Trump's most vocal enemies, Trump will decide to sit out 2024 and treat DeSantis as an heir rather than a rival.
https://www.nationalreview.com/corner/how-to-handle-and-not-handle-the-politics-of-january-6/