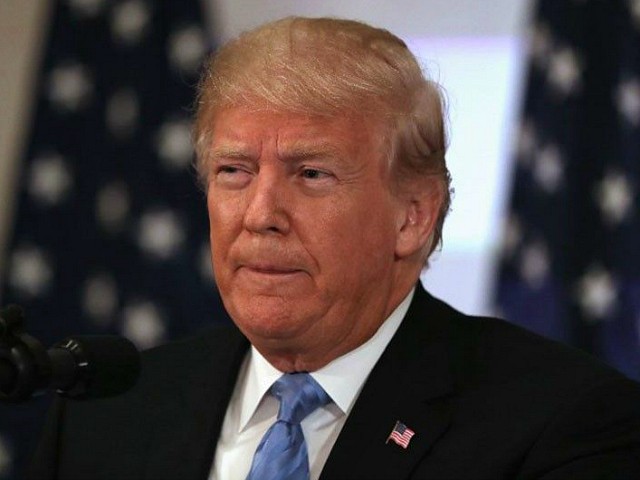 The House passed a $850 billion spending bill that would fund the government until December 7, preventing President Donald Trump from potentially shutting down the government to force Congress to partially fund his promised border wall.
The House passed the spending bill, H.R. 6157, with a vote tally of 361 to 61. The spending bill funds several departments of the U.S. government and would fund the government through December 7.
Funding for the American government runs out on Sunday night and would avoid a government shutdown as long as the president signs the spending bill into law. The Senate passed its spending bill last week, sending the bill to the president's desk to sign before government funding runs out on Sunday.
President Trump previously slammed the spending package because it did not include increased funding promised for the border wall and increased funding for border security. Republican leadership has lobbied President Trump to avoid a government shutdown because of the shutdown's potential negative impact on the Republicans' majority in the House.
Last week, President Trump called the bill "ridiculous" and called on Republicans to "GET TOUGH."
Lame-duck Speaker Paul Ryan claimed Wednesday that Trump would sign the spending bill.
Ryan said, "I'm confident he will sign it. … This funds our military, this funds opioids, this does a lot of the things that we all want to accomplish together, and we've had very good conversations with the president."
.@SpeakerRyan says President Donald Trump has said he will sign the Defense, Labor-HHS-Education, CR spending package.

"Yes. I'm confident he'll sign it."

— Jennifer Shutt (@JenniferShutt) September 26, 2018
As Breitbart News reported this week, by finishing the agencies' budgets before the election and including a continuing resolution (CR) in the bill, the bill removes any leverage for Trump to force a border wall deal with Democrats and Republicans.
The House version of the Department of Homeland Security (DHS) funding bill includes $5 billion in border wall funding, while the Senate version only contains $1.6 billion in border wall funding. Funding the government through December 7 makes it harder for Trump to fight for $5 billion in border wall funding despite several Senate Democrats' admission that they could support increased border wall funding.
Several vulnerable Senate Democrats such as Sens. Joe Manchin (D-WV), Joe Donnelly (D-IN), and Heidi Heitkamp (D-ND) have signaled in the past that they would be open to $5 billion in partial border wall funding in the spending bill.
House Freedom Caucus co-founder Rep. Jim Jordan (R-OH) said that he voted no against the spending bill because it does not fund the wall.
Jordan explained:
H.R. 6157 (the CROmnibus) just passed. I voted no. -Funds what we said we wouldn't (Planned Parenthood) -Doesn't fund what we said we would (border security wall) -AND continues the record spending.
H.R. 6157 (the CROmnibus) just passed. I voted no.

-Funds what we said we wouldn't (Planned Parenthood)
-Doesn't fund what we said we would (border security wall)
-AND continues the record spending #DoWhatWeSaid

— Rep. Jim Jordan (@Jim_Jordan) September 26, 2018
Congressman Dave Brat (R-VA), a member of the conservative House Freedom Caucus, voted no against the spending bill and lamented the bill's increased spending as well as its lack of border wall funding in a statement on Wednesday.
Brat said:
In March, I voted no on a massive spending package that contained unacceptably high spending levels. I explained then that Republicans had called for spending to remain constant, except for an appropriate increase for defense spending to get our military rebuilt. But, in order to get nine Senate Democrats to agree to pass the bill, Congress increased spending over $400 billion. I could not support it when we were already over $21 trillion in debt.
"Even worse, Republicans ran on a promise to increase border security funding and building a wall, yet we still have not delivered on that promise. It is time we do so," Brat added.
Sen. David Perdue (R-GA), who voted against the bill in the Senate, slammed the bill as "unacceptable."
House Freedom Caucus Chairman Mark Meadows (R-NC), who leads roughly 40 conservatives, said, "I don't think it's a plan that works. I don't see anywhere our leverage is better to get wall funding on Dec. 7 than it is on Oct. 7."
Meadows added, "So at some point, you have to maintain and keep our campaign promises. And at this point, I fail to see the merits of this strategy."
"At this particular point obviously I am voting no, and I think he's going to see what the will of the American people is and make a decision based on that," Meadows said.
President Trump told Fox News in September that he would "most likely" not shut down the government. Trump has signaled his reservations about a potential shutdown's impact on the midterm elections, mainly about keeping the House majority.
"I guess when you get right down to it, it is up to me," Trump said. He added, "but I don't want to do anything to hurt us or potentially hurt us."
Politico noted that while the political brinksmanship behind an election-eve shutdown fight may hurt Republicans' chances of keeping their House majority, "it also would not help endangered Senate Democrats like Donnelly, who are running as pragmatists who can make government work for their constituents."
Trump also claimed last week that Republican leadership is "being played like a fiddle" by Democrats on border security and building the wall.
I want to know, where is the money for Border Security and the WALL in this ridiculous Spending Bill, and where will it come from after the Midterms? Dems are obstructing Law Enforcement and Border Security. REPUBLICANS MUST FINALLY GET TOUGH!

— Donald J. Trump (@realDonaldTrump) September 20, 2018
http://feedproxy.google.com/~r/breitbart/~3/p-H1tkToCf8/