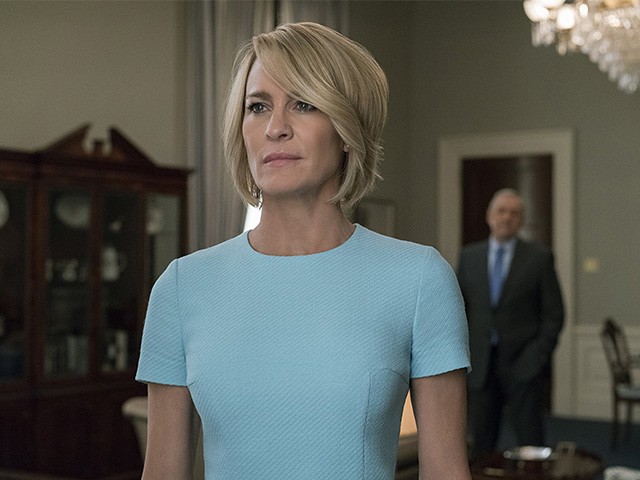 In Netflix's trailer for its final season of House of Cards, Claire Underwood, played by Robin Wright, declares, "The reign of middle-aged white men is over."
Kevin Spacey — who portrayed the show's former protagonist, Frank Underwood — will be almost entirely absent from the show's last season following multiple allegations of sexual misconduct.
Spacey was removed from further production of House of Cards following accusations against him from Star Trek: Discovery star Anthony Rapp. Rapp accused Spacey of making a sexual advance toward him at a New York City party when he was just 14 years old.
WATCH:

Breitbart News reported in November of 2017:
Spacey has since been accused of attempted rape by an ex-boyfriend, who claimed he was a teenager when the alleged incident took place, and on Thursday, eight staffers on House of Cards accused Spacey of serial harassment.
Spacey did not deny Rapp's allegations.
Spacey was not charged with sex crimes, according to a September announcement from Los Angeles County District Attorney Jackie Lacey, citing the expiration of the case's statute of limitations.
BGR reported on Netflix's loss of $39 million after separating itself from Spacey, who was slated to portray Gore Vidal in a biopic illustrating the late left-wing polemicist's life:
The sexual assault scandal involving House of Cards star Kevin Spacey cost the [Netflix] $39 million. Though Netflix didn't reference the scandal outright, its earnings report included a charge of $39 million due to "unreleased content we've decided not to move forward with."
The House of Cards storyline of previous seasons chronicled the Underwoods' shared ascent up the political power ladder. The show's final season's trailer contains no depiction of Spacey, focusing solely on Wright and her character's turbulent term as president.
Follow Robert Kraychik on Twitter.
http://feedproxy.google.com/~r/breitbart/~3/ZiyIdYReLWI/