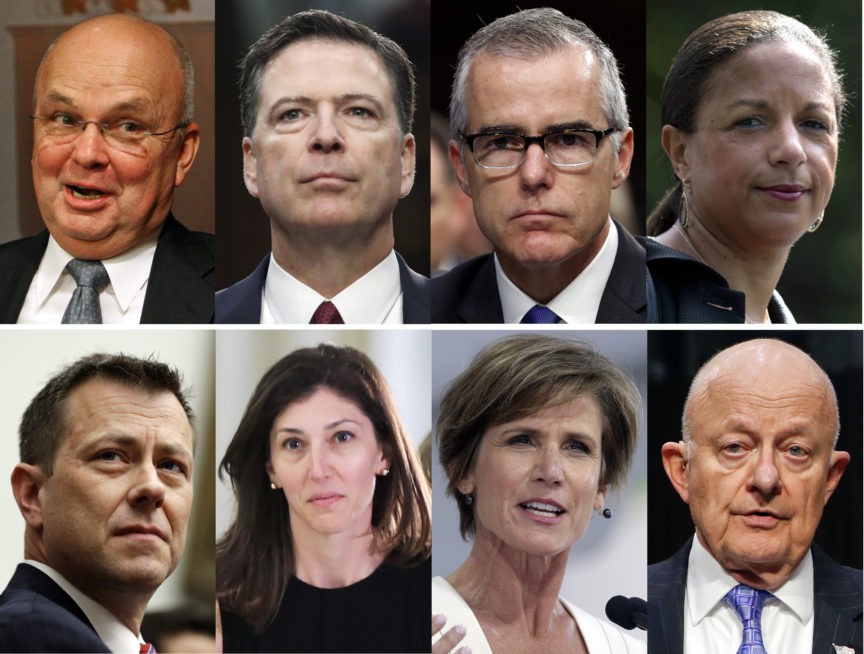 The House Intelligence Committee on Friday morning voted to declassify transcripts of interviews with more than 50 witnesses from the committee's Trump-Russia investigation, including scores from former President Obama, Hillary Clinton aides, and Fusion GPS operatives.
They include former Director of National Intelligence James Clapper, former Attorney General Loretta Lynch, former acting Attorney General Sally Yates, former Deputy FBI Director Andrew McCabe, former U.S. Ambassador to the United Nations Samantha Power, former Obama aide Ben Rhodes, former National Security Adviser Susan Rice, Clinton campaign manager John Podesta, and Clinton campaign and DNC lawyer Marc Elias.
They also include scores of Trump campaign aides, including former White House Chief Strategist Stephen Bannon, campaign aide Sam Clovis, former White House Communications Director Hope Hicks, Trump's son-in-law and senior adviser Jared Kushner, former aide Corey Lewandowski, and long-time Trump confidant Roger Stone.
A full list of transcripts to be released can be found on the committee website here.
The transcripts will now go to the intelligence community to determine what personal information may need to be redacted, which could take weeks.
The move comes ahead of the mid-term elections, where Democrats may gain control of the House. Democrats are reportedly poised to reopen the investigation into whether the Trump campaign colluded with Russia, as well as launch dozens more.
Democrats reportedly requested the release of additional transcripts, including for Rep. Debbie Wasserman Shultz (D-FL) and Rep. Dana Rohrbacher (R-CA), but Rep. Mike Conway (R-TX), who led the investigation, told Politico the transcripts were not marked for release due to "speech-and-debate" issues inherent with lawmakers testifying.
http://feedproxy.google.com/~r/breitbart/~3/45JnVPemFCc/