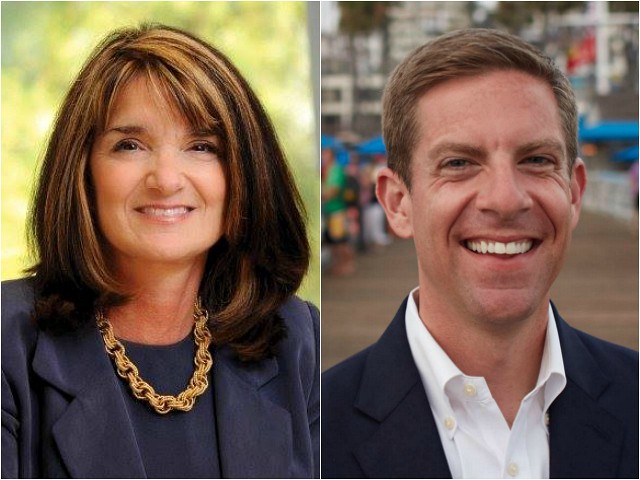 The pivotal battle for long-time California Republican Rep. Darrell Issa's congressional seat tightened in a poll released Friday as Republicans remain at risk of losing House control.
Republican Harkey garnered 44 percent support to Democrat Levin's 51 percent with a margin of error of 5.4 percent among the 500 likely voters surveyed from October 29 to November 1. Among independents only in the KGTV-San Diego Union-Tribune/SurveyUSA poll, ten percent were undecided while 55 favored Levin and 35 favored Harkey.
The 49th congressional district voted went to Hillary Clinton in the 2016 presidential election while Republican Rep. Darrell Issa held on to his seat by less than one percentage point. The Republican district was highly targeted by the Democrats in 2016 and again in the 2018 midterm elections. They have identified the district among California congressional seats integral to flipping control of the House.
The presidency was the top issue for Democrats in the 40th congressional district in the new poll. This was also the top issue among independents followed by immigration and climate change. 
President Donald Trump received a net eight percent disapproval rate in the poll with 43 percent approving of the jobs he is doing and 51 percent disapproving. Just 37 percent of respondents approved of the job current 49th district Rep. Issa is doing, 46 percent disapproved.
Immigration, economy, taxes, and health care were the top issues among Republicans surveyed. 
The SurveyUSA poll shows a drastic tightening of the race since polls taken September and October 19-24. Those polls were conducted by Berkeley IGS and NY Times/Siena College.
Respondents enthusiastically supported Harkey at 67 percent and Levin at 70 percent.
Levin benefits from a heavy influx of campaign cash and visits from former President Barack Obama, his political hero House Minority Leader Nancy Pelosi, Democratic Socialist Sen. Bernie Sanders, and comedian Chelsea Handler. Harkey recently received a supporting visit from Eric and Lara Trump and some of the Trump 2020 campaign team at her campaign headquarters.
Michelle Moons is a White House Correspondent for Breitbart News — follow on Twitter @MichelleDiana and Facebook.
http://feedproxy.google.com/~r/breitbart/~3/hbBbSrNa1Vc/