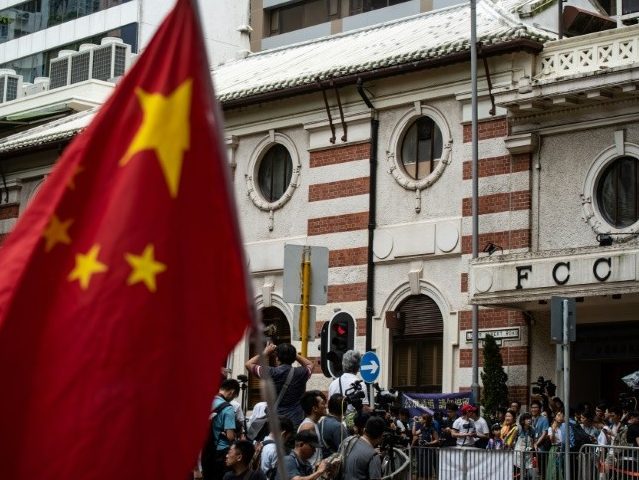 The
Financial Times
announced on Friday that the government of Hong Kong decided not to renew Asian news editor Victor Mallet's work visa, effectively beginning the process of expelling him from the island. The decision stunned the international financial community and deeply alarmed press freedom advocates.
Mallet appears to have drawn the ire of Hong Kong officials and their masters in Beijing by chairing a meeting of the Foreign Correspondents' Club (FCC) that included Andy Chan as an invited guest.
Mallet has lived in Hong Kong since 2016 and became vice-president of the FCC last year. Chan is the head of the Hong Kong National Party, which was banned in September because its advocacy for independence was classified as a call for "violent revolution" and a threat to public order. Chan's speech at the FCC was specifically cited by the police as one of the reasons for banning his party because he called for separation from China.
Mallet defended Chan's invitation on the grounds of free speech and freedom of political expression, which are nominally better protected in Hong Kong due to the "Basic Law" that has kept it semi-autonomous from China since the British relinquished control of the island in 1997. Pro-China politicians in Hong Kong accused him of giving "criminals and terrorists" a platform.
Chan was outraged by Hong Kong's refusal to renew Mallet's work visa.
"It has dealt a severe blow to the city's press freedom, and will greatly affect Hong Kong's image. It is really a big deal. How could the government refuse to renew the visa of a journalist without even offering any reason?" he asked on Friday.
Supporters of the decision to expel Mallet said it was important to send a message of "zero tolerance for pro-independence talk," while opponents derided it as small-minded and petty retaliation for Mallet inviting Chan to speak.
According to the Financial Times, no reason was given for the government's unprecedented action against Mallet. Hong Kong Journalists Association chairman Chris Yeung Kin-hing urged the government to explain exactly why Mallet's visa renewal was denied.
"Has Beijing exerted any pressure on Hong Kong? If yes, that has already eroded the high degree of autonomy which Hong Kong enjoys," he said. And if not, he added, that might be even worse because it could mean Hong Kong officials are merely guessing what they need to do in order to please Beijing.
"This is clearly a form of retaliation for his involvement in the public talk organized in August by FCCHK, which angered Beijing by featuring a pro-Hong Kong independence activist. Such action is yet another proof that the Chinese authorities are extending their policy of intimidating foreign journalists to the territory of Hong Kong," Reporters Without Borders charged in a fiery statement.
Human Rights Watch called the decision "shocking and unprecedented" and said it smacks of "Beijing-style persecution of critics."
"This will have an immediate chilling effect on freedom of expression in the city," said Jason Y. Ng, president of the Hong Kong branch of the PEN writer's association. He mourned the loss of Hong Kong's reputation as an "open 'world' city that abides by the rule of law."
As of Friday, the Hong Kong Immigration Department adamantly refused to explain itself, saying only that it "decides whether to approve or refuse the application after careful consideration of individual circumstances of each case."
http://feedproxy.google.com/~r/breitbart/~3/GN9hm8hv_r8/