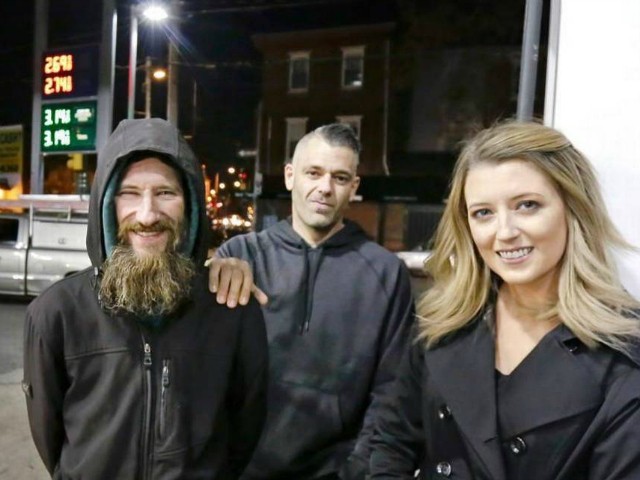 A couple from New Jersey and a homeless man who captured the hearts of the nation last Thanksgiving when their tale of raising $400,000 for a homeless veteran went viral allegedly made up the entire story.
Prosecutors believe that New Jersey residents Kate McClure and Mark D'Amico conspired with homeless man Johnny Bobbitt to create the elaborate ruse, enabling them to scam GoFundMe donors out of $400,000, according to a criminal complaint NBC Philadelphia obtained on Wednesday.
Investigators say the trio made sure their GoFundMe campaign donors would not obtain information "that would affect their judgment about solicited contribution to that fundraising effort."
McClure and D'Amico surrendered themselves to authorities Wednesday, but it is unclear if Bobbitt turned himself in as well, a source familiar with the case told NBC Philadelphia.
D'Amico, McClure, and Bobbitt are all expected to face charges, including conspiracy and theft by deception, for allegedly concocting the scheme.
The Burlington County Prosecutor's Office said it would release a statement providing updates to the case on Thursday afternoon.
The seemingly heartwarming tale began when McClure and D'Amico started a GoFundMe campaign for $10,000 to help Bobbitt get through the winter as a thank you for giving them his last $20 to buy gasoline when McClure's car ran out of gas in a rough Philadelphia neighborhood.
The campaign went so viral that it surpassed its $10,000 goal to raise more than $400,000.
But the tale did not have such a happy ending after plans to disperse the money went downhill and Bobbitt sued the couple. The homeless man, through his attorney, claimed the couple mismanaged the money by pocketing the funds meant for him.
McClure and D'Amico claimed Bobbitt was addicted to drugs and said they were withholding the money from him until he gets off drugs.
Police conducted a search of McClure and D'Amico's home in September after a judge ordered the couple to appear in court to account for the $400,000 raised for Bobbitt. Authorities searched the home and inspected a black BMW before hauling it away.
A lawyer representing the couple announced in September that the couple was likely to face charges, and he would no longer be able to represent the couple in the civil matter. But it was not known until Wednesday that Bobbitt played a role in the scam.
http://feedproxy.google.com/~r/breitbart/~3/8dOZBqQLz2g/