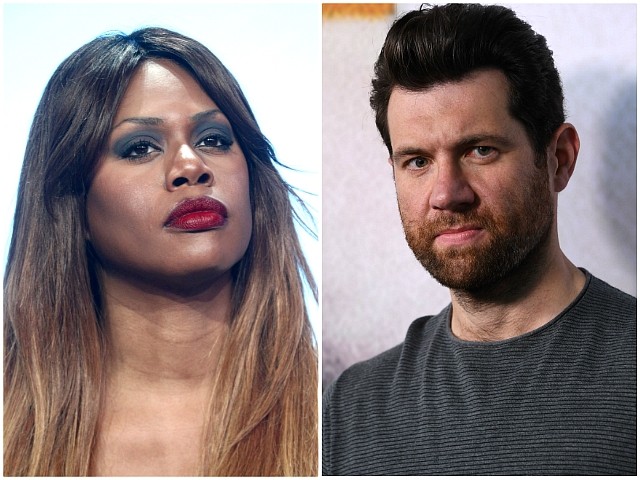 Hollywood celebrities are taking to Twitter to bash the Trump administration in the wake of a New York Times report that states the administration may eliminate gender ideology and officially return to legally identifying individuals as biological "males" or "females."
"This is pure evil," tweeted Billy Eichner, host of Billy on the Street. "Get your friends together and vote like our lives depend on it. Because they do."
This is pure evil. Get your friends together and vote like our lives depend on it. Because they do. https://t.co/mri7fM62Dh

— billy eichner (@billyeichner) October 21, 2018
Trans actor Laverne Cox told Variety that "Besides nuclear war and our president being an agent of Russia? For the trans community, with our previous president so much progress really happened, and most of the progress has been rolled back."
"So what scares me for kids is that there really are no protections in schools. In places like Mississippi, there are states with laws that are criminalizing trans folks. I'm worried there's no recourse now. I'm worried there's no protection," Cox said.
Comedienne Kathy Griffin tweeted a link to a thread by Media Matters' Parker Molloy, who posted, "Lots of people asking what they can do to fight back against the Trump administration's planned anti-trans actions. The answer, honestly, is to elect Democrats."
Please read and share this important thread https://t.co/hqRxcuNRuy

— Kathy Griffin (@kathygriffin) October 21, 2018
On Instagram, actress Ellen Page of Juno said what the Times reported is "horrible," and that it reflected "hatred and cruelty."
"We need to protect the rights and humanity of trans people," she said.
Actress Mia Farrow and comedienne Bette Midler also called for political action against identifying people using the common-sense notion based on biological fact that people are either "male" or "female."
If you agree that we cannot let this happen, call your representatives. Senate switchboard is (202) 224-3121. An operator will connect you directly with the Senator or congressperson's office you request. https://t.co/S50dfy5lSG

— Mia Farrow (@MiaFarrow) October 22, 2018
Ooooh, here's today's #TINY distraction! There's transgenders among us,! SURPRISE! and #dumbkopfTrumpkopf wants to make sure… well he's not sure what, but he'll figure it out soon! Meanwhile the world is coming under siege from murderers, plunderers like him. VOTE 2018

— Bette Midler (@BetteMidler) October 22, 2018
Actor James Woods, however, praised the notion of legally defining a person's sex based on the science of biology, rather than "personal mythology."
This bunch must be happy Trump is having the legal definition of a person's sex to be based on biology, not personal mythology. pic.twitter.com/F23DZL2hww

— James Woods (@RealJamesWoods) October 22, 2018
The Times report said such a change would "roll back" civil rights protections for those who claim their gender identity is incompatible with their biological sex.
The report continued the action "would be the most significant of a series of maneuvers, large and small, to exclude the population from civil rights protections and roll back the Obama administration's more fluid recognition of gender identity."
In a statement sent to Breitbart News, however, Caitlin B. Oakley, national spokesperson and senior advisor in the office of the assistant secretary for public affairs at HHS, said her office does not comment "on alleged, leaked documents that purport to indicate the status of deliberations or the focus of the department."
She continued, however, that "everyone deserves to be treated with respect and HHS's Office for Civil Rights will continue to vigorously enforce all laws as written and passed by Congress, prohibiting discrimination in healthcare on the basis of race, color, religion, national origin, sex, age, and disability."
Oakley explains as well that a federal court has already issued a nationwide injunction against the Obama administration's definition of sex for Title IX.
"The Obama administration's broad definition of 'sex' was enjoined by a federal court on a nationwide basis in December 2016 and the Obama administration did not appeal," she observed. "That court found that the Obama administration regulation was overbroad and inconsistent with the text of the 1972 Title IX law prohibiting discrimination on the basis of sex. The court order remains in full force and effect today and HHS is bound by it as we continue to review the issue."
http://feedproxy.google.com/~r/breitbart/~3/QfR2XhLJNIw/