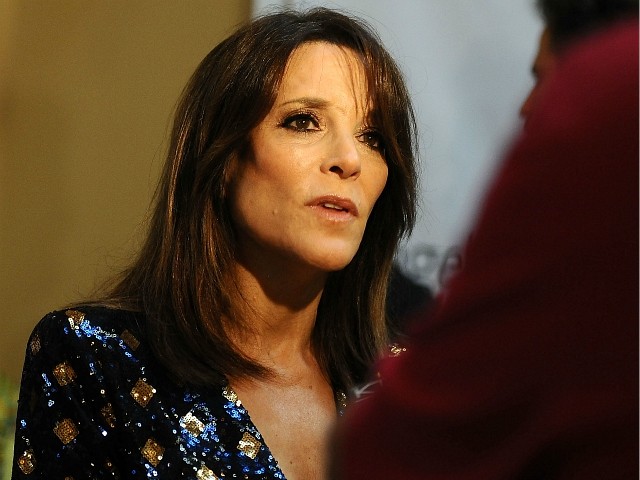 Marianne Williamson, Politico reports, who is Oprah Winfrey's purported "spiritual guru" is preparing White House run against President Donald Trump in 2020.
"Marianne Williamson — pal of Oprah Winfrey, spirituality guru and fixture of Hollywood's New Age community, is preparing for a 2020 run against President Donald Trump," Politico reported on Friday.
Marianne Williamson — pal of Oprah Winfrey, spirituality guru and fixture of Hollywood's New Age community, is preparing for a 2020 run against President Donald Trump https://t.co/b6lsKTyqCZ pic.twitter.com/o8AsylNEG3

— POLITICO (@politico) November 16, 2018
The woman chiefly known as an author of "spirituality" books, announced Friday that she is forming a presidential exploratory committee and will head to Iowa where presidential hopefuls flock to test the waters.
"We had a miracle in this country in 1776, and we need another one," Williamson said in a recent video. "It's going to be a co-creative effort, an effort of love and a gift of love, to our country and hopefully to our world." America needs to get "back to an ethical center that is the true exceptionalism of the American ideal," she added.
Williamson, 66, is little known outside some circles in Hollywood, but she has dabbled in politics at least once before when she raised $2 million in 2014 to run as an independent against Democrat Rep. Henry Waxman in California.
Several celebrities endorsed Williamson's 2014 run for Congress including actress Eva Longoria, Nicole Richie, Jane Lynch, Marcia Cross, and Alanis Morrissette. She also saw support from former Michigan Governor Jennifer Granholm and former Ohio Rep. Dennis Kucinich. She lost in a landslide.
While none of her past supporters have publicly admitted knowledge of her 2020 aspirations, some guessed that Williamson was working on the idea. The big clue was a job listing that appeared in Hollywood seeking a social media director for a presidential campaign that would be "part campaign, part startup, part spiritual movement," for a female candidate who is a "non-politician, high-profile writer and spiritual personality."
Williamson liberally mixed her chatter about spirituality in with her political commentary in 2014.
For instance, in one interview she criticized capitalism as forgetting that "When you see your fiduciary responsibility, which is the corporate matrix here, as the idea that you're making more money is more important than the righteous balance of energy."
She also claimed to be "left-wing" saying, "When it comes to policy, I'm definitely a left-wing Democrat. There's no doubt about it, on policy."
Still, after she lost, Williamson said that she learned to listen to herself, not her advisers, in politics.
"I kept waiting for people to tell me what to do and [I] tried to hire people who would tell me what to do," Williamson told Oprah. "It taught me what I should have already known: to only listen to myself."
Williamson joins an avalanche of Democrats looking to a run for the White House including former Vice President Joe Biden, and Senators Kamala Harris, Cory "Spartacus" Booker, and Elizabeth Warren. Others include Maryland Congressman John Delaney, Billionaire and Second Amendment opponent Michael Bloomberg, porn star lawyer Michael Avenatti, small-time West Virginia politician Richard Ojeda, and global warming guru and billionaire Tom Steyer, among up to a dozen more.
Follow Warner Todd Huston on Twitter @warnerthuston.
http://feedproxy.google.com/~r/breitbart/~3/xz4DIL5gfds/