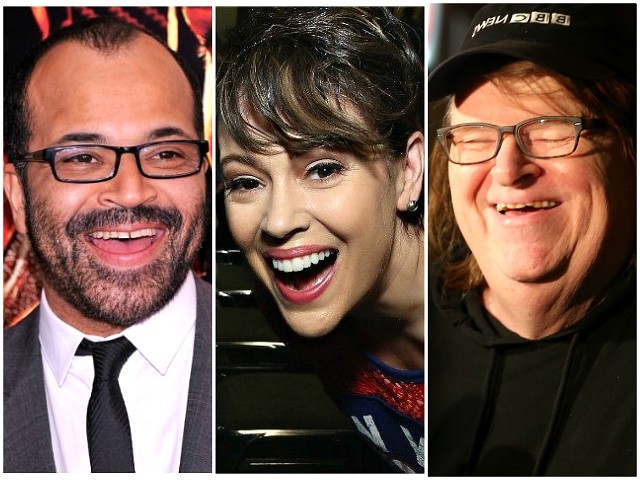 Scores of Hollywood celebrities celebrated the success of left-wing candidates in Tuesday's midterm elections and targeted President Donald Trump with slurs and hopes of his prosecution.
The midterm elections were generally a positive night for the Democrats, who gained back control of the House as well as certain governorships. However, there was less positive news for Democrats in the Senate, where Republicans have increased their majority to 54.
To any of the pundits or talking heads that do not give us proper credit for this great Midterm Election, just remember two words – FAKE NEWS!

— Donald J. Trump (@realDonaldTrump) November 7, 2018
Nevertheless, dozens of Hollywood celebrities took to social media to celebrate their success, declaring that the American people had rejected President Donald Trump's agenda and Republican representatives.
Left-wing activist filmmaker Michael Moore celebrated the fact that Democrats won the popular vote, declaring that Americans had "rejected Trump and all that he stands for."
But the best news is that once again we WON the MOST votes throughout the whole country! In all the House races combined we got 3 MILLION MORE votes than the Repubs. And TEN MILLION MORE in the Senate races! The majority of Americans rejected Trump and all that he stands for!

— Michael Moore (@MMFlint) November 7, 2018
Actress Ellen Barkin declared that "fatso" Trump is "fucked big time now."
trumpie…you fucked big time now. aint no stopping mueller now… you're on the run. wait, can you run fatso?

— Ellen Barkin (@EllenBarkin) November 7, 2018
Talk show host Andy Cohen said the result meant that the "crook will not continue to go unchecked."
Very excited the Dems got the House back and this crook will not continue to go unchecked. Good night!!

— Andy Cohen (@Andy) November 7, 2018
Actress Debra Messing claimed that there would now be more accountability through additional "checks and balances."
We won the House back and that is something to celebrate. There will be accountability; the checks & balances that our forefathers imagined. Women won all across this country. That is… https://t.co/7UtNZKMFZT

— Debra Messing (@DebraMessing) November 7, 2018
Director Ava DuVernay took the chance to spread conspiracy theories about "rampant voter suppression" and "gerrymandering" designed to stop a Democrat wave.
Democrats flipped the house w/ historic wins by women + people of color, some slashing decades-long red strongholds. And 1.4 million formerly incarcerated people have regained the right to vote. Despite gerrymandering + suppression. Something powerful has happened. Believe that.

— Ava DuVernay (@ava) November 7, 2018
Comedian Kumail Nanjiani declared the election a "blue wave," a claim not born out by results.
— Kumail Nanjiani (@kumailn) November 7, 2018
Frozen star Josh Gad sent a message of thanks to those who had helped campaign against Republicans.
To all of those who worked so unbelievably hard to make sure we finally had checks & balances in our country again, a sincere thank u tonight. I am constantly amazed by all of those who are rolling up their sleeves & doing everything that they can do to combat this chaos. ❤️U

— Josh Gad (@joshgad) November 7, 2018
Actor Billy Baldwin said he was "thrilled" to see Democrats take back the House.
Thrilled to take back the House !!!
Favorite consolation prize… The Beto F Bomb !!! pic.twitter.com/fwdXXfVtOO

— Billy Baldwin (@BillyBaldwin) November 7, 2018
House of Cards writer Beau Willimon said that Americans had "wedged our foot in before fascism."
The House is the PEOPLE'S house.

It's the People who will save this country. Not overnight. Not easily. The hard work continues.

But we've wedged our foot in before Fascism could slam the door on Democracy.

And we're here to stay.

— Beau Willimon (@BeauWillimon) November 7, 2018
Comedian Rob Delaney warned that the fight against the Trump administration has just begun.
Yesterday was but one day in the fight, baby. Do you view the election results as a net positive? I do. Are you satisfied? I'm fucking not. We voted & helped others vote yesterday. Today, we're back to education, organization & direct action. And? It's life or death. Have fun!

— rob delaney (@robdelaney) November 7, 2018
Actor Jeffrey Wright indicated FBI Special Counsel Robert Mueller should now step up his investigation into alleged Russian collusion.
Ok. Over to you, Bob Mueller.

— Jeffrey Wright (@jfreewright) November 7, 2018
Also, House Intel Committee & Mueller sent subpoenas & best wishes. https://t.co/kFG1GdDpgm

— Jeffrey Wright (@jfreewright) November 7, 2018
Meanwhile, actress Alyssa Milano sought to rub the results in Donald Trump's face, pointing out various Democrat successes in local, House, and Governor races.
For your records, @realDonaldTrump. In case you were wondering. https://t.co/MZUWcNwfGk

— Alyssa Milano (@Alyssa_Milano) November 7, 2018
Lord of the Rings star Sean Astin added he felt "deeply relieved" by the Democrat's success.
I'm deeply relieved that my political party, the Democratic Party will resume leadership of the U.S. House of Representative. The environment will now have some long overdue advocacy in government. And, Congress will start to put a check on this President & his administration. https://t.co/XZS2WhAmWs

— Sean Astin (@SeanAstin) November 7, 2018
Check out all the reaction below.
"Democrats were hoping for major midterm magic and they got it in the House. President Trump is reportedly already blaming Paul Ryan. He is so disappointed in the Speaker of The House, he might start calling him 'Don Jr.'" – @JimmyKimmel #ElectionNight #Midterm2018 #KimmelLIVE

— Jimmy Kimmel Live (@JimmyKimmelLive) November 7, 2018
Flipping the house despite all the gerrymandering was no small feat. Despite it being expected by the polls, this is still a BFD. The House has so much power to hold the president accountable. I look forward to some real oversight

— John Legend (@johnlegend) November 7, 2018
Dems take the House.
Thank God.
Checks and balances do your thing.

— Adam McKay (@GhostPanther) November 7, 2018
I wish Beto/Gillum/Stacey would have won, but tonight is great. A bunch of young and exciting new candidates won all over the country and we got some big ballot measures passed and now we can run some checks and try to get some BALANCE🇺🇸

— Ike Barinholtz (@ikebarinholtz) November 7, 2018
WE FLIPPED THE HOUSE!!!!!!!!!!! THANK YOU FOR VOTING!!!!!!!!
AHHHHHHHHHH!!!! pic.twitter.com/IM5yOJTuR2

— billy eichner (@billyeichner) November 7, 2018
Yasssssssss! pic.twitter.com/uDm0ljdMsf

— Zach Braff (@zachbraff) November 7, 2018
DEMOCRATS JUST TOOK BACK THE HOUSE YES I AM SCREAMING

— Amber Tamblyn (@ambertamblyn) November 7, 2018
Congratulations to everyone who endured discomfort, long lines, broken machines, rain and obstruction to cast their votes and bring some semblance of balance back to our government. WINNERS? DON'T GLOAT, AND DON'T SEEK REVENGE. BE MAGNANIMOUS IN VICTORY.

— Bette Midler (@BetteMidler) November 7, 2018
You are such a delusional cunt https://t.co/t01GielFqa

— Kathy Griffin (@kathygriffin) November 7, 2018
A lot of Republican committee chairmen are having a very tough night.

I'm sending my thoughts and prayers.

— George Takei (@GeorgeTakei) November 7, 2018
Dems take the House. Repubs take the Senate. Trump takes the Fifth.

— Albert Brooks (@AlbertBrooks) November 7, 2018
Trump will no longer weild unfettered power- there will be checks. Because we have the House.

— Mia Farrow (@MiaFarrow) November 7, 2018
Follow Ben Kew on Facebook, Twitter at @ben_kew, or email him at bkew@breitbart.com.
http://feedproxy.google.com/~r/breitbart/~3/sYHGxu6WBUQ/