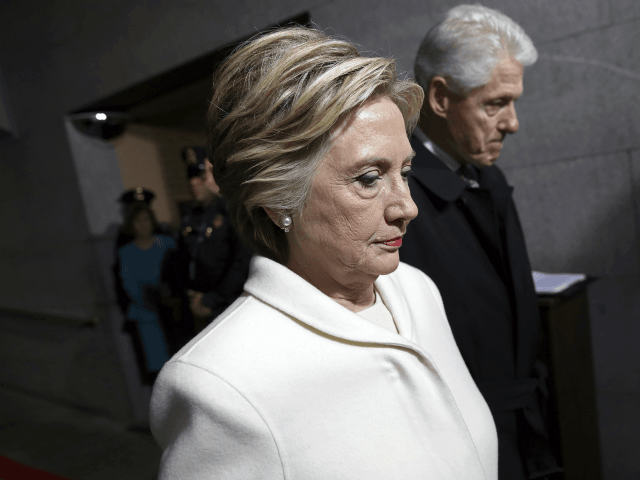 Hillary Clinton told the far-left CNN that the sexual misconduct allegations against her husband were different than those against Brett Kavanaugh.
The interview was conducted by the left-wing Christiane Amanpour. It was made up of 30 minutes of softballs that allowed Hillary to tee off on whatever she wanted (primarily President Trump) without any tough follow ups.
The most outrageous moment, however, came at the end when Amanpour spread some breathtaking fake news. In reference to the Clintons upcoming speaking tour, Amanpour asked:
Obviously you're going to be prepared to have questions about that moment in 1998, the impeachment, the allegations of sexual harassment against your own husband. Are you prepared to answer those questions? Is he prepared to answer them? And how do you see that similar or different from what President Trump is being accused of and Kavanaugh and others today?
Before we get to Hillary's answer, let's look at the question… Amanpour describing the allegations against Bill Clinton as "harassment" is like describing an apple as, say, a banana, an uzi as a Dreamsicle, CNN as a legitimate news outlet.
Bill Clinton was not accused of harassment. Among other things, he was credibly accused of rape (Juanita Broaddrick), of exposing himself (Paula Jones), and of groping a grieving widow in the Oval Office (Kathleen Willey).
What's more, over the exposure allegation, Clinton was forced to settle a lawsuit filed with Paula Jones for $850,000, which was $100,000 more than Jones originally asked for.
Here's Hillary's answer:
There's a very significant difference. And that is the intense, long-lasting partisan investigation that was conducted in the '90s. If, you know, the Republicans, starting with President Trump on down, want a comparison, they should welcome such an investigation themselves.
The "partisan investigation" Hillary is obviously referring to is Independent Counsel Ken Starr, who was appointed, not by Republicans, but by three judges on the DC Circuit. What's more, he was appointed to replace a man appointed by Clinton's own attorney general, Janet Reno, who launched the special prosecutor … at the request of President Clinton himself.
And it was Clinton's sleazy Oval office affair with Monica Lewinsky, a much young subordinate, along with the Jones' suit, and his own act of perjury, that brought his sex life into the Starr investigation.
Apparently, Hillary would also like us to believe the now-debunked allegations against Kavanaugh were not partisan, when that is all they were. Accuser Christina Blasey Ford surrounded herself with left-wing, activist lawyers. Donna Ramirez is herself a left-wing activist. Julie Swetnick is the creation of Michael Avenatti, a deeply partisan attorney determined to destroy Trump's presidency.
Kavanaugh not only survived a deeply partisan three week investigation conducted by the establishment media, the Senate Judiciary Committee, and the FBI — he walked out of it exonerated.
On the other hand, Bill Clinton settled the indecent exposure case, was caught lying about Lewinsky, committed perjury, and Broaddrick's rape allegation is about as credible as they come, including contemporaneous witnesses.
And what was Amanpour's follow up question after Hillary spewed that nonsense?
Hillary Clinton, thank you very much indeed for joining me.
This is CNN. 
Follow John Nolte on Twitter @NolteNC. Follow his Facebook Page here.
http://feedproxy.google.com/~r/breitbart/~3/ix7YNW-e_zc/