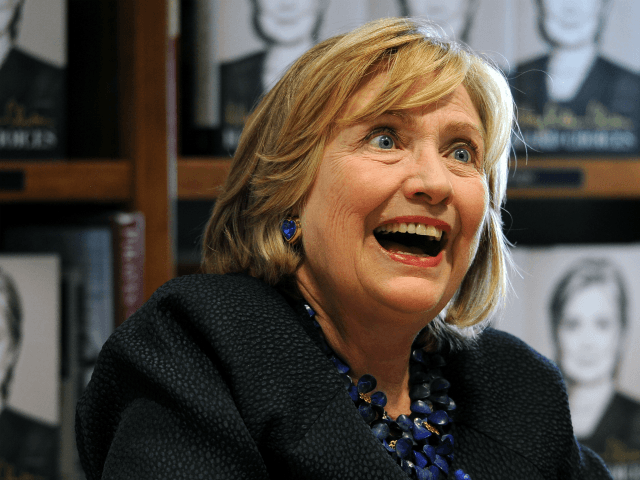 Hillary Clinton has involved herself in the Florida recount, sending out a blast email to supporters seeking donations to help pay for legal resources and support staff so that Sen. Bill Nelson has what he needs to "win this fight."
Clinton unleashed the blast email from her Onward Together organization, a group dedicated to advancing Clinton's mission and founded in the wake of her defeat in the 2016 presidential election.
Clinton was seeking funds for the Democratic Senatorial Campaign Committee (DSCC), writing:
We need to make sure that Senator Nelson's team has everything they need for this process, and we cannot waste a moment. Make a donation to the DSCC's voter protection efforts while they work to make sure every vote is counted.

What we're seeing right now is unprecedented — this is the first a full statewide recount in Florida history. It's unbelievable that any elected official wouldn't call for a fair and accurate count of the votes.

The DSCC is currently deploying lawyers and organizers down to Florida to make sure that Senator Nelson has whatever legal support, staff capacity, and voter protection resources he needs to win this fight — and investing in their work is the best way you can have an impact. Chip in $25 to defend Democrats like Bill Nelson.

Thank you,

Hillary
Clinton also posted the fundraising call on Twitter:
The final margin in the race for Senate in Florida is too close to call, and the Secretary of State has just ordered a recount. Help make sure Senator Nelson's team has everything they need for this process, and that every vote is counted: https://t.co/QcYOOeshyw

— Hillary Clinton (@HillaryClinton) November 12, 2018
The website for Onward Together documents its support for numerous other partner groups, including Color of Change, Emerge America, Indivisible, Swing Left, Run for Something and Demand Justice.
Demand Justice, an organization founded by former members of Clinton's 2016 presidential campaign and associated with a "social welfare organization" financed by billionaire activist George Soros, is also helping to organize volunteers to aid Nelson's campaign with the Florida recount, as Breitbart News reported.
Demand Justice sent out a blast email asking for "volunteers to help out in a variety of roles in the recount process, including observing at polls, data processing, and logistics organization."
The group advertised that it is seeking supporters who are either in Florida or who can travel there.
Aaron Klein is Breitbart's Jerusalem bureau chief and senior investigative reporter. He is a New York Times bestselling author and hosts the popular weekend talk radio program, "Aaron Klein Investigative Radio." Follow him on Twitter @AaronKleinShow. Follow him on Facebook.
Joshua Klein contributed research to this article. 
http://feedproxy.google.com/~r/breitbart/~3/IgYg4ZpedLs/