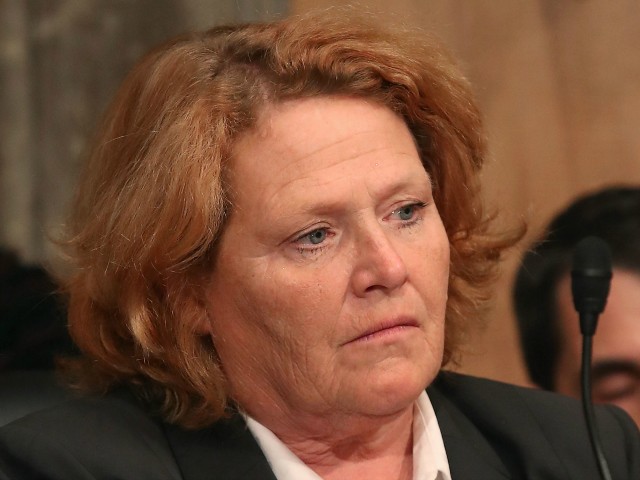 Sen. Heidi Heitkamp (D-ND) ran a campaign ad this week labeling several women, without their consent, as sexual assault survivors in an attempt to attack Rep. Kevin Cramer (R-ND).
Sen. Heitkamp recently ran an ad as an open letter from sexual assault survivors to Rep. Cramer, Heitkamp's Republican challenger for the North Dakota Senate seat.
The campaign ad contended that Cramer made insensitive comments regarding the sexual assault accusation against then-Supreme Court nominee Brett Kavanaugh; however, at least four women came out on Tuesday claiming they never gave consent to be named in Heitkamp's ad:
Here's the ad in question. pic.twitter.com/5Dhj5Wpqgi

— Sean Moran (@SeanMoran3) October 16, 2018
Kady Miller of Bismarck, North Dakota, said in a Facebook post, "A lot of these people listed, including me, did not give anyone permission for our names to be posted":
Here's Kady, a North Dakota woman claiming that she never gave the Heitkamp campaign permission to use her name. pic.twitter.com/vnA8SGm47x

— Sean Moran (@SeanMoran3) October 16, 2018
"I don't even support Heidi Heitkamp, and I am not a domestic abuse survivor," Miller added.
Other women also spoke out, saying they never permitted the Heitkamp campaign to use their names.
Keeley Beck of Mandan, North Dakota, said Heitkamp included her name without permission. Beck wrote on Facebook:
I am reaching out and writing to you now to tell you that this article that you have written is a sham. You should be ashamed of yourself no matter how just or heroic you think you were being. I NEVER gave my consent or permission, written or verbal, to be involved in anything like this: for, against, or personally affected:
Here's another comment, this time from Lexi. pic.twitter.com/Vg0AOyEAVB

— Sean Moran (@SeanMoran3) October 16, 2018
Lexi Zhorela of Bismarck also revealed she never gave permission for the ad.
"This is not about politics—this is about someone trying to get a message across—in a horrible- CRUEL- way," Zhorela wrote on Facebook.
Eve Lancaster of Bismarck said in a separate post that she was "disgusted" and "furious" that the Heitkamp campaign included her name in the letter without her consent.
Mary Rennich of Bismarck, a North Dakota Democrat activist, suggested that women upset that their names appear in the Heitkamp ad are "idiots" because the Heitkamp team allegedly obtained permission from the women.
Heitkamp's campaign apologized for using several women's names without their permission, saying:
Sexual assault is a serious crime—and one that too many North Dakota women have experienced. In an attempt to bring awareness to this issue and push back against dismissive comments toward sexual assault survivors by Kevin Cramer, our campaign worked with victim advocates to identify women who would be willing to sign the letter or share their story. We recently discovered that several of the women's names who were provided to us did not authorize their names to be shared or were not survivors of abuse. I deeply regret this mistake and we are in the process of issuing a retraction, personally apologizing to each of the people impacted by this and taking the necessary steps to ensure this never happens again [emphasis added]:
.@HeidiHeitkamp campaign issues statement about campaign ad naming sexual assault survivors (and in one case misidentifying someone as a survivor).

My original story which promoted this: https://t.co/HrHTgBvWT1 #NDPol pic.twitter.com/CgT1qdst2H

— Rob Port (@robport) October 16, 2018
This campaign ad is not the first time Heitkamp has inflamed controversy. The same day Heitkamp announced she would oppose Judge Kavanaugh for the Supreme Court, one of her ads touting her bipartisanship mysteriously disappeared.
Jake Wilkins, the North Dakota Republican Party communications director, charged in a statement on Tuesday that this serves as another example that Heitkamp will exploit anyone to get ahead.
"This is another example of Heidi Heitkamp exploiting whoever she can for political gain," Wilkins said. "With a campaign built on lies, misinformation, and manufactured controversy, it's no wonder Heitkamp is the most vulnerable senator in the country."
http://feedproxy.google.com/~r/breitbart/~3/chQ6mK_8wks/