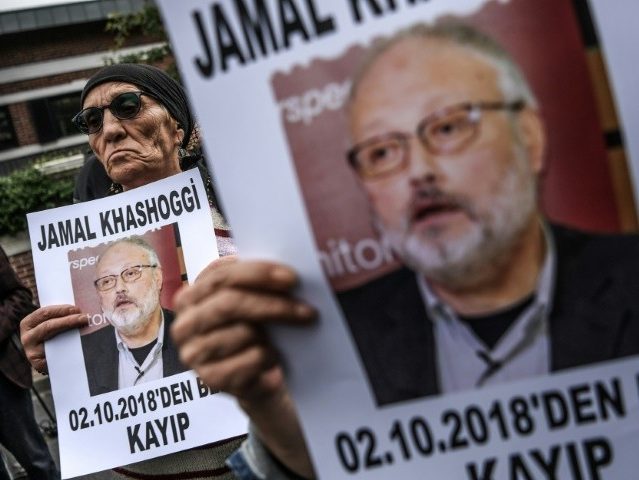 Jamal Khashoggi's sons Salah and Abdullah asked Saudi authorities to release the murdered journalist's remains on Sunday, while 82-year-old Saudi King Salman bin Abdulaziz planned an unprecedented "domestic tour" to shore up support for the monarchy.
Reuters quoted a senior government official who said the king's tour of the country would begin on Tuesday, his first such foray since ascending to the throne in 2015. It was not clear if the effective chief executive of the country, Crown Prince Mohammed bin Salman, would accompany his father.
The crown prince has been accused of either masterminding or knowingly permitting Khashoggi's killing in Turkey. The monarchy insists the October 2 murder was the work of rogue agents exceeding their authority.
Saudi media reported King Salman will "launch health, education, and infrastructure projects" during his tour. The Financial Times bluntly described the king's tour as an effort to "contain fallout" from the Khashoggi killing and "reassert his authority" after delegating enormous powers to Crown Prince Mohammed.
Another recent sign the crown prince's power could be scaled back as a result of the crisis is the return of Prince Ahmed bin Abdulaziz to Riyadh last week. Prince Ahmed is the younger brother of King Salman, making him one of the most senior Saudi royals. He departed for self-imposed exile in London six years ago and has reportedly been reluctant to return because of Crown Prince Mohammed's growing power and Prince Ahmed's stern criticism of his actions, particularly the Saudi military involvement in Yemen.
"The king is caught in a situation. He has entrusted his son to carry out a transformational process, which he doesn't want put in jeopardy by a bad mistake," an unnamed Western official told the Financial Times.
"Everyone condemns the killing, but can we allow one tragic event to ruin everything?" a Saudi executive asked. "People don't care for politics, they care for jobs."
Khashoggi's sons made a public appeal for the return of their father's remains during a CNN interview on Sunday.
"It's not a normal situation, it's not a normal death at all. All that we want right now is to bury him in Al-Baqi in Medina with the rest of his family. I talked about that with the Saudi authorities and I just hope that it happens soon," Salah Khashoggi said. Al-Baqi is a cemetery in Medina, Saudi Arabia.
"I really hope that whatever happened wasn't painful for him, or it was quick. Or he had a peaceful death," Abdullah Khashoggi added.
The brothers disputed the Saudi government's characterization of Jamal Khashoggi as an Islamist and sympathizer of the Muslim Brotherhood.
"It's just labels and people not doing their homework properly, and reading his article and going in depth. It's easier to stick a label on him," Abdullah said.
"Jamal was never a dissident. He believed in the monarchy that it is the thing that is keeping the country together. And he believed in the transformation that it is going through," said Salah.
The brothers decried a great deal of "misinformation" and efforts to politicize their father's death. In particular, Salah said the very uncomfortable-looking photograph of him shaking hands with Crown Prince Mohammed two weeks ago has been misinterpreted and "over-analyzed." He said he planned to return to his banking job in Jeddah soon and has faith that King Salman's promise that "everybody involved will be brought to justice."
http://feedproxy.google.com/~r/breitbart/~3/2DmkfhdLnx0/