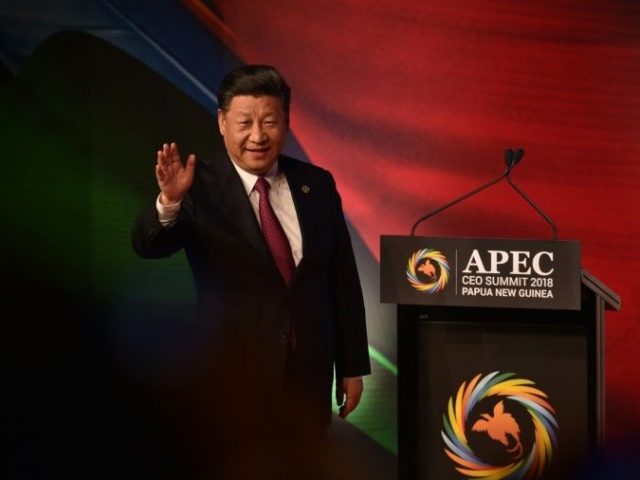 The Asia-Pacific Economic Cooperation summit (APEC) concluded on Sunday without issuing a joint statement for the first time in the organization's 25-year history.
China reportedly objected to portions of the draft statement, particularly a line condemning "unfair trade practices." The summit was surprisingly disastrous for China on numerous fronts, from mounting unease with Beijing's heavy-handed tactics to self-inflicted public-relations debacles.
CNN on Monday quoted a U.S. official who described China's objections to the draft statement:
The official said the most "problematic" line for the Chinese was: "We agree to fight protectionism including all unfair trade practices."

"They seemed to think that the 'unfair trade practices' was some kind of singling out," the official contended.

"It's a little concerning that it appears that China didn't really have any intention in the end of reaching consensus," the official said.
"You all know who the two big giants in the room were, so what can I say," sighed Prime Minister Peter O'Neill of Papua New Guinea, which hosted the APEC summit.
According to the Wall Street Journal, Chinese officials "forced their way" into the office of Papua New Guinea's foreign minister on Saturday and demanded a meeting to complain about the proposed joint statement, only to be "escorted away by police after a confrontation."
Chinese officials denied the incident occurred, Foreign Minister Rimbink Pato sought to downplay it, and Papua New Guinea police refused to comment. AFP also reported on the misbehavior of Chinese officials on Sunday and said police officers were stationed outside the foreign minister's office to prevent further unpleasant encounters.
"It's not appropriate for the minister to negotiate solo with the Chinese. The Chinese negotiating officials know this," an unnamed source told AFP.
The Wall Street Journal reported numerous APEC members "lined up against Beijing" during the meeting. The O'Neill administration in Papua New Guinea is actually pro-China, but opposition leaders said "the biggest issue to come out of APEC" this year was the lack of transparency in China's business dealings, a point stressed by the United States.
The Journal related clashing statements between Chinese Communist Party leader Xi Jinping and U.S. Vice President Mike Pence:
On Saturday, Mr. Xi clashed with the U.S. over trade and security, calling on officials to "reject arrogance and prejudice," as Beijing and Washington vie for global influence.

Speaking to reporters before leaving Papua New Guinea, Vice President Mike Pence, traveling in Asia over the past week, said he twice spoke privately—briefly and candidly—to Mr. Xi during the APEC summit.

"I reiterated that they need to open up their markets," said Mr. Pence, who has repeatedly warned of "aggression" and "empire" in the region—an implicit reference to China's behavior. He added that "President Trump believes that a [trade] deal is possible but we also believe we're in a very strong position."

On Thursday, in Singapore, Mr. Pence had a candid private exchange with Chinese Premier Li Keqiang. Walking back to their seats after a summit photo, Mr. Li told the vice president that China was still "a developing country," another U.S. administration official said. Mr. Pence, pointing to China's trade practices, told Mr. Li: "Things have to change."
The APEC meeting was a battlefield cratered by verbal artillery exchanges between the Chinese and U.S. delegations, with Xi complaining about "unilateralism" and "protectionism" and Pence vowing to "hold nations accountable for their unfair economic practices."
The mood among APEC members is apparently turning sour on China and its Belt and Road infrastructure initiative, which finally has serious competition from the U.S.-Japan-Australia partnership.
Pence openly mocked Belt and Road and its infamous un-repayable loans, as reported by CNN, prompting a peevish response from the Chinese Foreign Ministry:
"The terms of those loans are often opaque at best. Projects they support are often unsustainable and of poor quality. Too often, they come with strings attached and lead to staggering debt … The United States deals openly, fairly. We do not offer a constricting belt or a one-way road," he said, mocking China's One Belt, One Road initiative.

China's Foreign Ministry lashed out at Pence for his remarks.

"Our advice for the relevant country is that instead of pointing fingers at others, it would be better to match its deeds with its words and truly treat all countries, big or small, as equals," Chinese Foreign Ministry spokeswoman Hua Chunying said in a statement.

"Not a single developing country has been mired in debt difficulties because of its cooperation with China. On the contrary, their cooperation with China has helped them enhance their capacity for self-driven development and improved their people's livelihood," Hua said about Pence's allegations on loans.
There were signs of growing unease among APEC members concerning China's military buildup in the South China Sea. China's assurances that it merely wishes to cleanse the area of pirates have given way to blatant territorial demands and ominous threats to the freedom of navigation, a menacing atmosphere that belies China's constant praise for "free trade."
CNN, which ran several articles over the weekend declaring APEC a surprising disappointment for China, found APEC members unhappy with China's use of "sharp power" – Beijing's unique tactic of using economic muscle to force foreign companies to comply with the Communist Party's agenda, a brand of compulsion halfway between the "hard power" of military might and the "soft power" of diplomacy.
Reuters added that China scored an "own goal" against itself by banning all but a few handpicked, mostly Chinese media outlets from covering Xi's meeting with Pacific Island leaders ahead of the APEC summit. Dozens of international journalists invited to the forum by Papua New Guinea were turned away at the door by the Chinese, including reporters from Papua New Guinea itself.
Jonathan Pryke of Australia's Lowy Institute said the heavy-handed move sent a "terrible signal" that China is "trying to buy influence but not build influence." One reporter from Papua New Guinea simply called it "a slap in the face."
"They begin with trade practices, with tariffs and quotas, forced technology transfers, the theft of intellectual property. It goes beyond that to freedom of navigation in the seas, concerns about human rights," Vice President Pence said of the Chinese agenda as he departed Papua New Guinea. Angry reporters turned away from a PNG conference facility that was essentially annexed by China might be inclined to agree with his assessment.
http://feedproxy.google.com/~r/breitbart/~3/Ry0Fp0mLXsg/