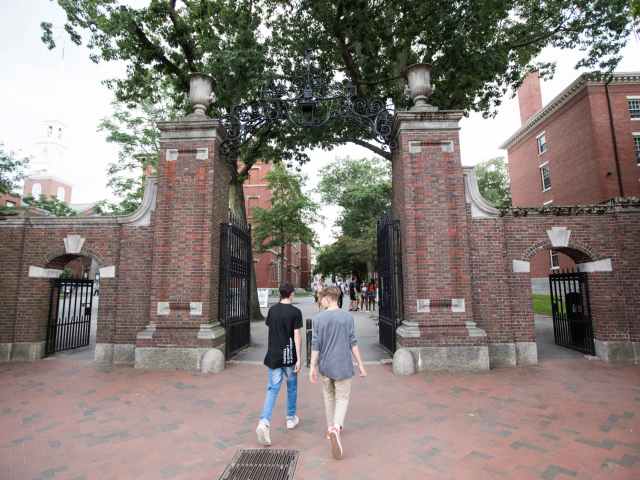 The trial over Harvard's alleged discrimination against Asian-American applicants kicked off on Monday in a Boston courthouse.
On Monday, the trial kicked off with opening statements from both parties. In his opening statement, Adam Mortara, a lawyer for the Students for Fair Admissions — the organization suing the Ivy League university alleging discrimination against Asian-American applicants — provided some facts about the acceptance rate for Asian-Americans at the prestigious school.
"Harvard is engaged in and wishes to continue to engage in intentional discrimination against Asian Americans," Mortara said in his opening statement. He then revealed a statistic that is at the crux of the entire trial. Although Asian-American applicants outperformed white applicants with regards to grades and SAT scores, Asian applicants were admitted by the Harvard admissions office at half the rate that white applicants were. Mortara argued that white applicants from rural America would likely be admitted over an Asian applicant with higher scores.
In his opening statement, Bill Lee, who is representing Harvard University, cited several Supreme Court cases that upheld the use of race in the admissions process. Lee emphatically denied that Harvard discriminates against Asian-American applicants. "Harvard does not discriminate and has not discriminated against Asian-Americans," Lee said. Lee argued that race is just one of many factors that Harvard uses in its decision-making process.
After the opening statements, Dean of Admissions William Fitzsimmons took the stand as the trial's first witness. He, like Lee, vehemently denied that Harvard discriminated in its admissions process.
The trial is expected to run over the next three weeks. Some legal analysts have predicted that the case, like other cases focusing on affirmative action policies, could be appealed all the way up to the Supreme Court.
In a tweet, the ACLU argued that white students stand the most to gain from a judgment against Harvard. "Make no mistake: A lawsuit against Harvard that's purported to represent the interests of Asian-Americans would, if successful, primarily benefit white students," the group said.
Make no mistake: A lawsuit against Harvard that's purported to represent the interests of Asian-Americans would, if successful, primarily benefit white students. #DefendDiversity pic.twitter.com/f7ssda9O9c

— ACLU (@ACLU) October 15, 2018
http://feedproxy.google.com/~r/breitbart/~3/41kN2ay9kPc/