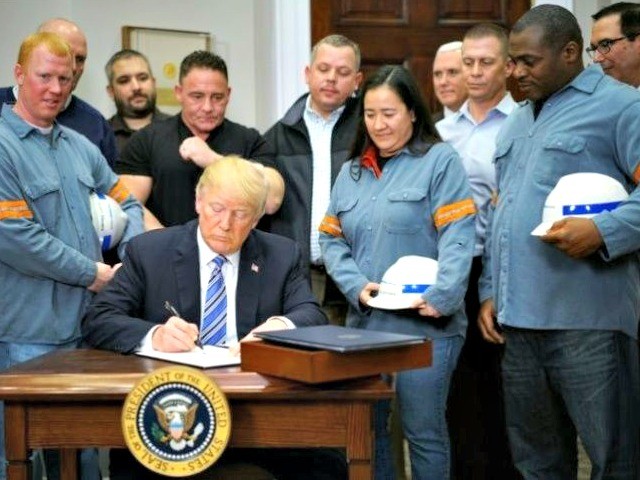 About half of U.S. business owners say President Trump's tariffs on Chinese goods, as well as imported steel and aluminum, are good for business, calling them "positive" for the economy.
A new Yahoo Finance survey of nearly 1,100 business owners revealed that almost half of the business community say Trump's tariffs are good for the American economy and their sales.
Roughly 49 percent of business owners said the tariffs on imported products are "positive" for their business. This breaks down to about 38 percent of business owners who said the tariffs are "extremely positive" and 11 percent who said the tariffs were "somewhat positive."
Only 36 percent of business owners said the tariffs were a net negative for the economy and business, breaking down to 23 percent who said they are "extremely negative" and 13 percent who called them "somewhat negative."
Business owners are more likely to call Trump's tariffs "extremely positive" than they are to say that the tariffs are negative.
American voters, by a majority, support Trump's tariffs as well despite the Democrat and GOP political establishments opposing the president's economic nationalist agenda. A recent poll found that 63 percent of midterm voters said they either support the protective tariffs or would like to give them more time to work.
As Breitbart News reported, there have been about 11,100 U.S. jobs created due to Trump's protective tariffs. On the other hand, there have been about 514 job losses directly tied to the tariffs. There are 20 times as many American jobs that have been created in the last six months thanks to Trump's tariffs on imported foreign goods than jobs that have been lost.
John Binder is a reporter for Breitbart News. Follow him on Twitter at @JxhnBinder. 
http://feedproxy.google.com/~r/breitbart/~3/Qpx1DgbodHw/