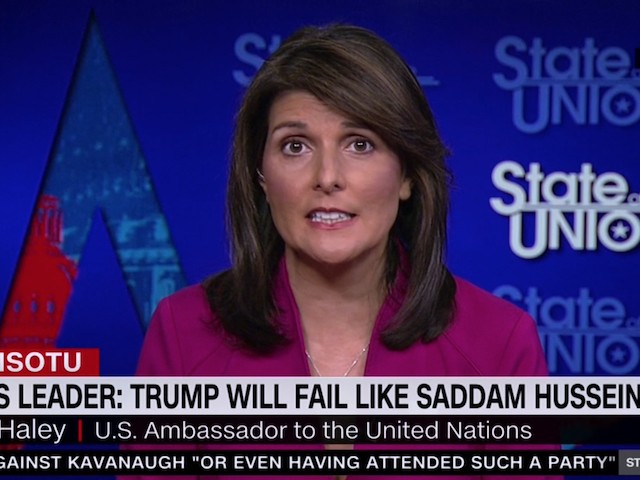 Sunday on CNN's "State of the Union." U.N. Ambassador Nikki Haley said Christine Blasey Ford, the woman accusing Supreme Court nominee Brett Kavanaugh of sexual misconduct, should not be second-guessed.
Haley said, "Every accuser always deserves the right to be heard. At the same time, I think the accused deserves to be heard. I think that's going to happen, which is great. The Senate has a huge responsibility here. They have to make sure it's fair. They have to make sure it's responsible. And they have to take the politics out."
She added, "Accusers go through a lot of trauma. Some handle it one way, and some handle it another way. Regardless, It's not something we want to do to blame the accuser or try and second guess the accuser. We don't know the situation she was going through 35 years ago. We don't know the circumstances."
Haley was responding to a question about President Donald Trump's tweet.
I have no doubt that, if the attack on Dr. Ford was as bad as she says, charges would have been immediately filed with local Law Enforcement Authorities by either her or her loving parents. I ask that she bring those filings forward so that we can learn date, time, and place!

— Donald J. Trump (@realDonaldTrump) September 21, 2018
Follow Pam Key on Twitter @pamkeyNEN
http://feedproxy.google.com/~r/breitbart/~3/tHHnAjBL0OI/