Internet hackers have begun infiltrating verified Twitter accounts and using them to pose as Tesla CEO Elon Musk to spread cryptocurrency scams across the platform.
Multiple verified Twitter accounts have been hacked and had their display names changed in order to impersonate Tesla CEO Elon Musk, according to BBC News. Some of the latest accounts to be hacked, edited and used to spread the scam include the British fashion retailer Matalan, film distributor Pathe UK and U.S. publisher Pantheon Books.
The scam used Twitter's "Promoted Tweets" feature to spread links to Bitcoin wallets where users were asked to send small amounts of Bitcoin in order to enter a fake Bitcoin giveaway said to have been set up by Musk — of course Musk had created no such giveaway and users did not receive any Bitcoin once they had parted with their money.
In order to add legitimacy to the competition, several other scam accounts often appeared in the replies to the giveaway claiming to have in fact received certain amounts of the digital currency from Musk. When asked for comment on the issue, Twitter told the BBC that it "doesn't comment on individual accounts for privacy and security reasons."
An example of one of the scam tweets can be seen below, many of these tweets include multiple spelling mistakes such as "Bitcoic" and "suppoot" in the below tweet: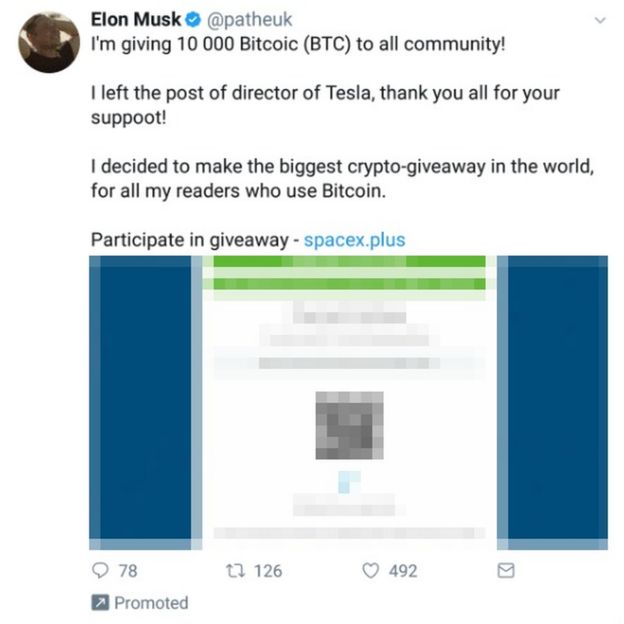 It appears that many hacked accounts have been recovered and have released statements about the issue:
The Pathe UK Twitter account was hacked this morning by an unknown third party. A series of unauthorised tweets were sent for which we apologise. The issue has now been resolved and we have taken back control of our account.

— Pathé UK (@patheuk) November 5, 2018
In typical Musk fashion, the Tesla CEO has made jokes alluding to the many scams that attempt to use his name and likeness for personal gain:
Wanna buy some Bitcoin? 😉😉 pic.twitter.com/9ZbBJ5fuVq

— Elon Musk (@elonmusk) October 22, 2018
A Twitter spokesperson told the BBC that the company has "substantially improved how we tackle crypto-currency scams on the platform… In recent weeks, user impressions have fallen by a multiple of 10 as we continue to invest in more proactive tools to detect spammy and malicious activity."
However, the problem of fake accounts and user impersonation remains an issue on the platform.
http://feedproxy.google.com/~r/breitbart/~3/A4Ce4E06vWs/