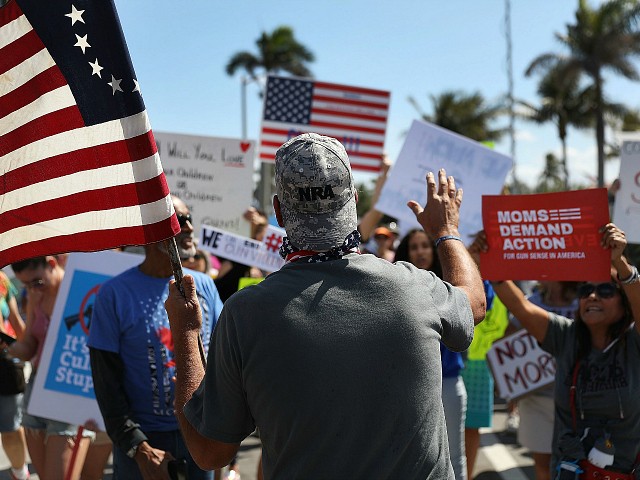 The gun control lobby nearly doubled the NRA in spending during the midterm elections.
The New York Times reports that Gabby Giffords' gun control group and Michael Bloomberg-funded Everytown for Gun Safety spent nearly $40 million "at the state and federal level in the midterms." The NRA spent $20 million.
Spending by the gun control lobby "[stemmed] a trend of financial dominance for the NRA going back years." It also exposes the vapidness of the gun controllers' continued claims that the NRA's deep pockets are controlling everything related to the Second Amendment.
In fact, as recently as November 19, 2018, Breitbart News reported that Shannon Watts, the founder of Michael Bloomberg-funded Moms Demand Action, claimed the NRA exploits tragedy to enrich the pro-Second Amendment organization. She went so far as to claim the NRA increased its annual budget by $100 million because of the Sandy Hook tragedy.
Watts did not say how much Moms Demand's budget increased via its partnership with Bloomberg, who pledged $100 million to flip control of the House during the recent midterm elections alone.
AWR Hawkins is an award-winning Second Amendment columnist for Breitbart News, the host of the Breitbart podcast Bullets with AWR Hawkins, and the writer/curator of Down Range with AWR Hawkins, a weekly newsletter focused on all things Second Amendment, also for Breitbart News. He is the political analyst for Armed American Radio. Follow him on Twitter: @AWRHawkins. Reach him directly at awrhawkins@breitbart.com. Sign up to get Down Range at breitbart.com/downrange.
http://feedproxy.google.com/~r/breitbart/~3/gG0xFlhr5Bk/