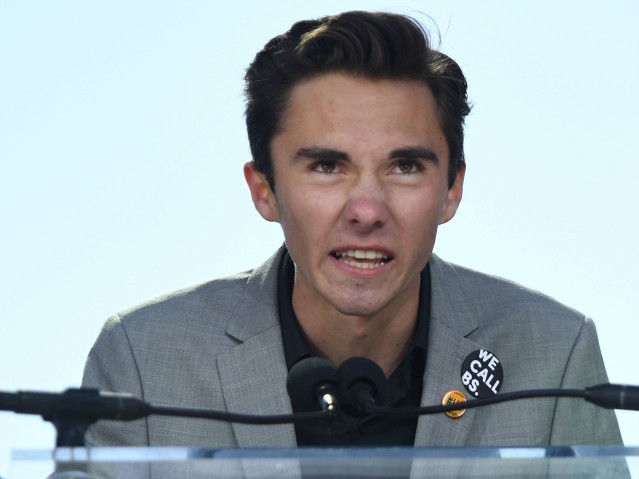 Gun control activist David Hogg is scheduled to speak at Harvard University and the Boston Public Library.
CBS News reports Hogg will address energizing young voters during his Harvard speech and will discuss gun control at the Boston Public Library.
Hogg and a number of his fellow Parkland students emerged as gun control activists following the February 14, 2018, attack in which a man used a legally purchased rifle to shoot and kill 17 in a gun-free zone. Hogg and the other activists then launched a 75-stop summer bus tour to promote gun control and voter registration, but Hogg often rode behind the bus in a SUV, where he was surrounded by guards.
NYMag reports, "Hogg, in fact, was frequently not on the bus but traveling separately in a black SUV accompanied by bodyguards. If he were a politician, one of the staffers told me, the intensity of interest in him would merit 24-hour Secret Service surveillance."
As more and more time passed between the February 14 attack and Hogg's speaking commitments his anti-NRA, pro-gun control message expanded to include criticism of older Democrats who refuse to leave and make room for younger members of the party. He particularly targeted Rep. Nancy Pelosi (D-CA), saying she needs to "move the f**k off the plate and let us take control."
The date for his Harvard speech is September 24. The date for his gun control speech at Boston Public Library is October 13.
AWR Hawkins is an award-winning Second Amendment columnist for Breitbart News, the host of the Breitbart podcast Bullets with AWR Hawkins, and the writer/curator of Down Range with AWR Hawkins, a weekly newsletter focused on all things Second Amendment, also for Breitbart News. He is the political analyst for Armed American Radio. Follow him on Twitter: @AWRHawkins. Reach him directly at awrhawkins@breitbart.com. Sign up to get Down Range at breitbart.com/downrange.
http://feedproxy.google.com/~r/breitbart/~3/IGZ7wPl3iFs/