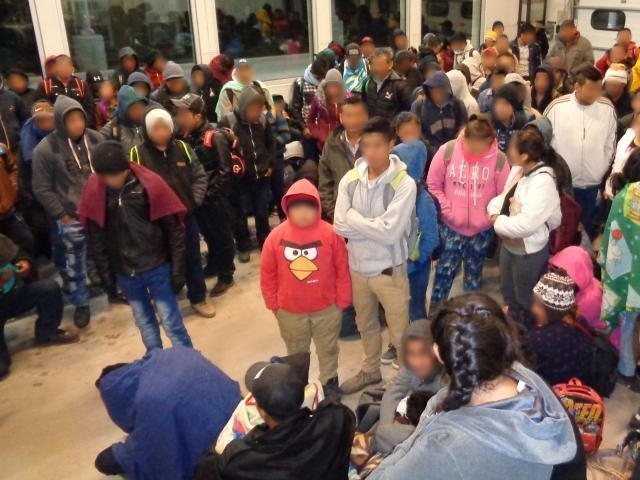 U.S. Customs and Border Protection (CBP) reported they apprehended 330 migrants who illegally crossed into the United States "one minute passed midnight" on Monday at Antelope Wells, a remote southwestern New Mexico port of entry.
The group mainly consisted of Central American families and unaccompanied minors, although CBP did not identify their countries of origin. Border Patrol Emergency Medical Technicians (EMT) said they provided initial medical screenings and determined none of the subjects in custody required immediate medical attention, according to the agency's press release.
This marked the second time in less than one week that a large group of Central American families and unaccompanied alien minors tried to enter the U.S. illegally and, then, surrendered to Border Patrol agents working at the Camp Bounds Forward Operating Base at the Antelope Wells Port of Entry. On Friday, Antelope Wells CBP apprehended 290 Central Americans. Among them, a Guatemalan juvenile male who showed signs of illness. Border Patrol transported him and his father by ambulance to a local hospital for treatment.
One day earlier, Antelope Wells officials said they spotted some migrants dressed in camouflage and hiding on the Mexican side of the border near the site of illegal entry. Agents believed the group was scouting the area for "possible vulnerabilities" to cross into New Mexico. In response, border patrol "prepared for illegal activity during the overnight periods."
U.S. Border Patrol agents in southern NM apprehend more than 600 people in recent days. A group of more than 300 today https://t.co/vUlh5Aealc and another large group late last week https://t.co/EwzfjPxAXB. Latest #CBP data here: https://t.co/xDglCsAFjB pic.twitter.com/WHE9I6O4PB

— CBP West Texas (@CBPWestTexas) February 11, 2019
The Antelope Wells border crossing is located at the southernmost tip of New Mexico, dubbed the boot heel, and is roughly 170 miles southwest of El Paso. It is part of the El Paso Sector, which includes the New Mexico border and part of West Texas.
CBP said they apprehended 28 large migrant groups since October 1, the beginning of the 2019 fiscal year in the El Paso Sector. The agency defines a large group as 100 or more people. Families and unaccompanied minors made up most of these groups.
Until recently, Antelope Wells accounted for a small number of unlawful border crossings and subsequent apprehensions given its remote desert location. However, Breitbart News reported the El Paso Sector experienced a 1,588 percent increase in apprehensions of Family Unit Aliens (FMUA) from January 2018 to January 2019, overwhelming resources at the Antelope Wells Port of Entry.
According to Las Cruces Sun-News, border patrol agents said migrants cross the border at Antelope Wells because it offers them easier access into New Mexico. They arrive after the port of entry closes at 4 p.m., usually at night, and walk around the barriers with the intent of getting caught because, once apprehended by CBP, they get bused to the the Lordsburg Station, which falls under the supervision of the El Paso Sector, and begin the process to be considered for asylum.
Additionally, Breitbart News reported that officials with the El Paso Sector Border Patrol said criminal organizations take advantage of these large groups of family units and unaccompanied minors to distract CBP so they can transport drugs or other high-value cargo across the border in other locations. Last month, around the same time Antelope Wells border agents apprehended 247 migrants after they crossed into the U.S. illegally, drug traffickers attempted to move 265 pounds of marijuana across Mexico-New Mexico border west of Antelope Wells.
Follow Merrill Hope, a member of the original Breitbart Texas team, on Facebook and Twitter.
http://feedproxy.google.com/~r/breitbart/~3/v_sAT-mhNZA/