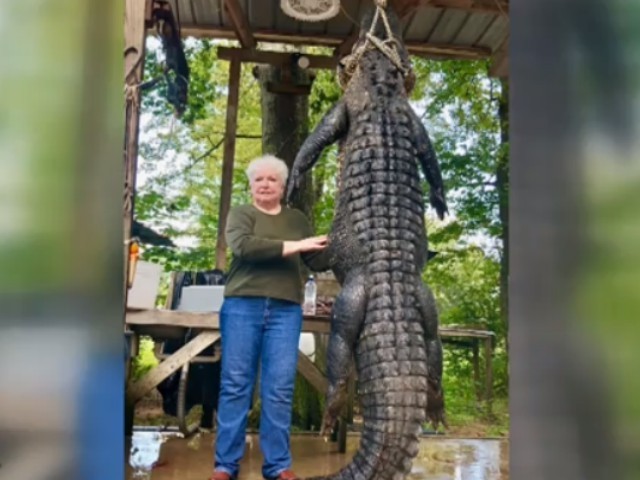 A great grandmother in Livingston, Texas, shot and killed the 12-foot alligator that ate her miniature horse.
The great grandmother, Judy Cochran, is also Mayor of Livingston.
USA Today reports that Cochran had been searching for the alligator for three years, following the disappearance of her miniature horse. She had seen numerous crocodiles on her land since that time but said that none of them were big enough to have eaten the family pet.
Cochran baited the alligator by putting a Raccoon carcass on a hook. Once the gator was on the hook it was legal to shoot, and Cochran said she was surprised that it only took one shot to kill the predator.
Fox 13 reports that Cochran was in mayoral meetings when he grandson called to let her know they had the big alligator on a hook. He told her, "We've got the big one Nana, so come on down."
Cochran took her rifle, walked down to the water's edge, and fired one round at the big gator. That was all it took. She said, "One shot in the head and he just went under. Typically they'll do what they call a death roll, and just roll over and over and over, but he didn't."
The 12-foot alligator weighed 580 lbs. Cochran plans to eat the meat and have boots made out of the animal's hide.
AWR Hawkins is an award-winning Second Amendment columnist for Breitbart News, the host of the Breitbart podcast Bullets with AWR Hawkins, and the writer/curator of Down Range with AWR Hawkins, a weekly newsletter focused on all things Second Amendment, also for Breitbart News. He is the political analyst for Armed American Radio. Follow him on Twitter: @AWRHawkins. Reach him directly at awrhawkins@breitbart.com. Sign up to get Down Range at breitbart.com/downrange.
http://feedproxy.google.com/~r/breitbart/~3/xgssWjuCQv0/