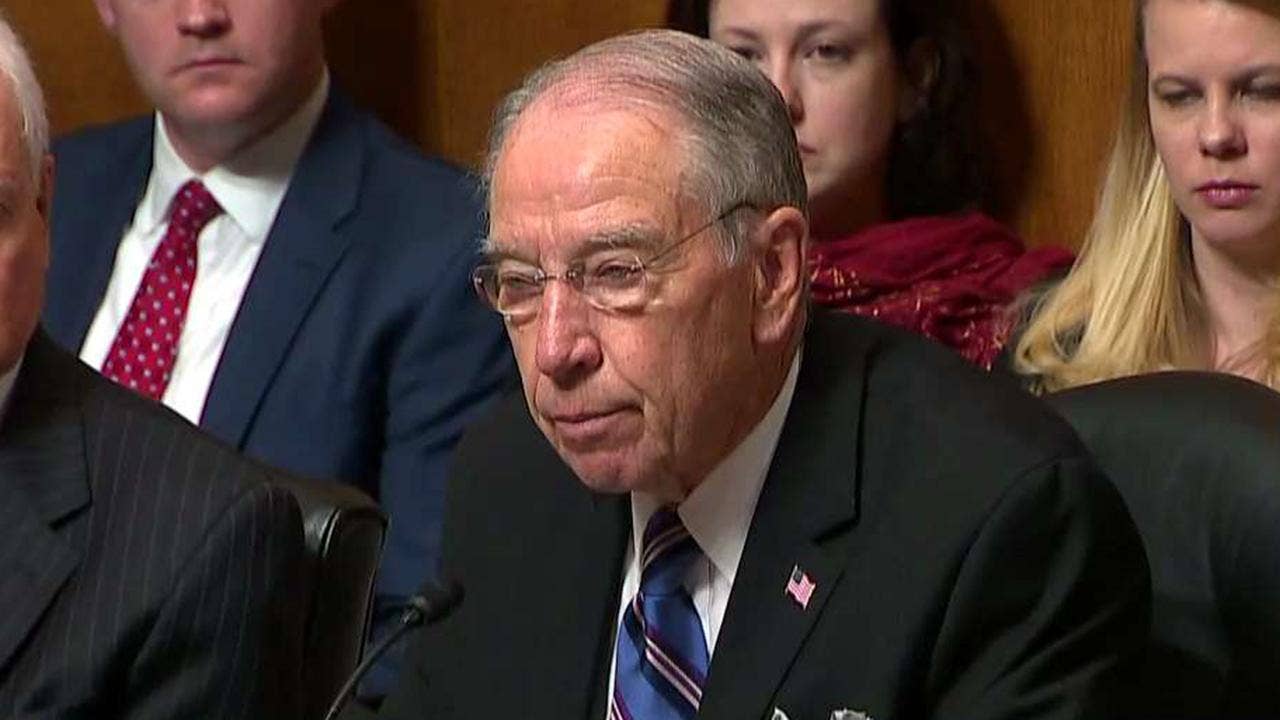 Senate Judiciary Chairman Chuck Grassley sparked some confusion during the testimony of Christine Blasey Ford on Thursday when he snapped at a staffer interrupting him — only to have Sen. Kamala Harris, D-Calif. briefly think he was aiming his barbs at her.
The moment came amid Ford's testimony about an alleged sexual assault in 1982 by Supreme Court nominee Brett Kavanaugh at a high school party. Kavanaugh denies the claim, along with other sexual assault allegations made against him.
Ford was being asked by prosecutor Rachel Mitchell about a map purportedly showing where she lived at the time. Harris interrupted and asked that Democrats be given copies of the map. Grassley, R-Iowa, at first said that was fine.
"You don't have a copy but if you want one we can get you one," he told Harris.
"Yes, before the questions begin so we can follow the testimony," Harris said.
But a staffer then appeared to tap Grassley's shoulder and shook his head.
"OK, my staff says that we should not provide the copy," Grassley then said, causing the staffer to quickly turn back and clarify that they could have have a copy.
"No, we will provide the copies," the unnamed staffer said, sparking some laughter from the room.
"Well speak plainly with me, please" a flustered Grassley snapped at the staffer, but appeared to do so while facing his Democratic colleague on the committee.
"Oh sure, I'd like to see what she's looking at" said a surprised Harris.
"No, not you, my staff" clarified Grassley, pointing a thumb in the direction of the smiling but red-faced staffer.
"You have another 30 seconds [for questioning] now, because I was rudely interrupted," he then grumbled at Mitchell.
The testimony of both Ford and Kavanaugh is expected to stretch well into the afternoon and will likely be crucial in deciding whether Kavanaugh is elevated to the highest court in the land.
http://feeds.foxnews.com/~r/foxnews/politics/~3/7xhUlsf5qcQ/grassley-snaps-at-staffer-at-kavanaugh-hearing-speak-plainly-with-me-please.html