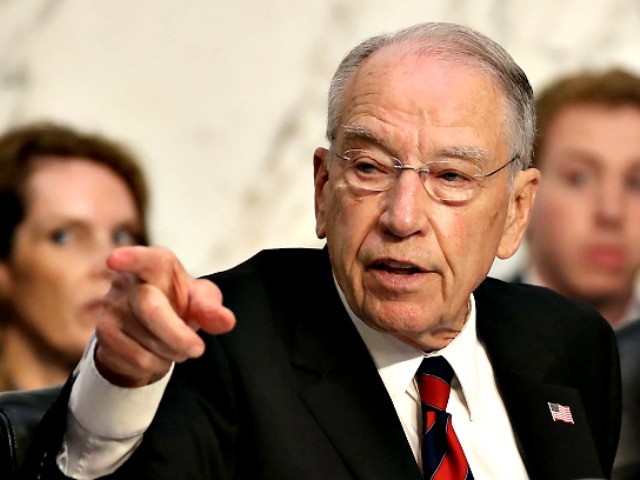 Senate Judiciary Committee Chairman Chuck Grassley (R-IA) appeared Wednesday on "The Hugh Hewitt Show" to discuss filling the D.C. Circuit vacancy left by now-Supreme Court Justice Brett Kavanaugh.
Grassley told host Hugh Hewitt that there is a chance that Kavanaugh's replacement could be confirmed before the end of the year, depending on how quickly the nomination is received.
Partial transcript as follows:
HEWITT Now Senator Grassley, I always ask you about pending nominees. There are 10 Appeals Court nominees before you. Three are out of committee. Will all 10 of those nominees get a vote before the end of the year?

GRASSLEY: Well, there's more than 10. There's 41 on the calendar right now, and I think there's 10 in our committee. And I think hopefully, I get the 10 out of our committee. But McConnell ought to keep the Senate in session until we get all 41 of those judges done. Or if you want to add 10 more to it, add 10 more to it.

HEWITT: I'm talking about the 10 Appeals Court nominees, and I am wondering about the Kavanaugh vacancy on the D.C. Circuit. Is there time for a nominee to come out of the White House and be confirmed by the end of the year for the D.C. Circuit nomination, a vacancy created by Brett Kavanaugh's promotion?

GRASSLEY: If we received it right now, the answer is yes, but just before Christmas. So it kind of depends upon how long we'll be in session. And by the way, I'm not denigrating your efforts to get 10 Circuit Court judges approved, because I'm in favor of them as well. And we're pushing them. For instance, we have two Ohio Circuit Court judges on the calendar for today's hearing, as another example.
Follow Trent Baker on Twitter @MagnifiTrent
http://feedproxy.google.com/~r/breitbart/~3/eXKTfXQ2f8I/