Cartel violence in the Mexican border state of Sonora continues with five homicides registered yesterday in Hermosillo and Ciudad Obregón. The double homicide which occurred yesterday in Ciudad Obregón was the 31st of the month. Law enforcement authorities fear more cartel violence will continue in the border state that for the most part has not seen the levels of violence experienced in other regions of the country.
This violence comes on the heels of the shocking discovery last Friday in the rural community of Bácum, Sonora where police discovered seven heads abandoned in an ice cooler. The murders sparked fears of an escalation in an ongoing territorial cartel war as reported by Breitbart Texas. Initial reports indicated that last Friday's discovery and the escalation of violence could be attributed to a territorial dispute between "Los Salazar" — aligned with the Sinaloa Cartel — and Cártel de Jalisco Nueva Generación (CJNG).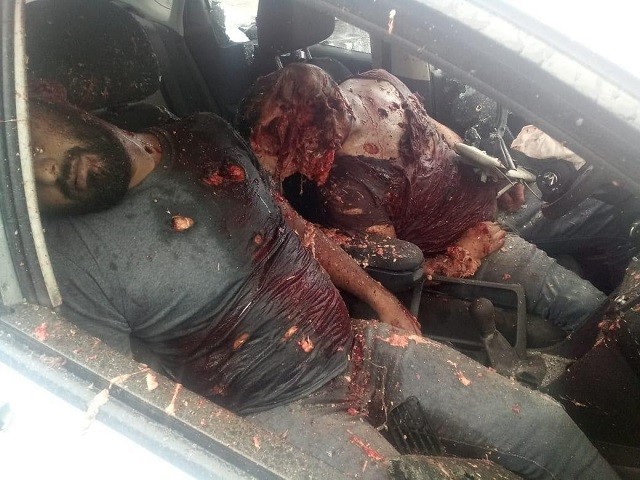 Other reports indicate that the violence could be caused by a turf war between the Sinaloa Cartel's "Los Chapitos" (sons of "El Chapo" Guzman with Los Salazar/Gente Nueva) against Fausto Isidro Meza Flores, Aka Chapo Isidro. The latter is a former Sinaloa cartel ally now aligned with remnants of the Beltran Leyva Cartel
Yesterday's violence began in Hermosillo, Sonora at 12:00 pm in colonia Lomas del Pitic when a 32-year-old male identified as Israel, aka Chabelo, was murdered. The victim attempted to fight off cartel gunmen who arrived in two vehicles and attempted to kidnap him, local news outlets reported. Israel fought back and pulled out a handgun. He fired, wounding one of the kidnappers but was gunned down by the others. The wounded kidnapper later died from his wounds.
The second incident took place in Ciudad Obregón at approximately 5:20 pm, when gunmen traveling in a white pickup truck fired rifles at two males traveling in a Volkswagen Jetta. The two males sustained numerous gunshot wounds and were killed instantly as the gunmen sped away. Investigators from the state attorney general's office later recovered over 50 shell casing at the scene.
Several videos were uploaded to social media which captured the sound of the gunmen attacking the victims with bursts of gunfire—one video was from inside a nearby restaurant.
The third incident occurred in Hermosillo in colonia Fuentes del Mezquital at approximately 8 pm when a young adult male was gunned down by unknown gunmen while he was standing in front of his house.
Robert Arce is a retired Phoenix Police detective with extensive experience working Mexican organized crime and street gangs. Arce has worked in the Balkans, Iraq, Haiti, and recently completed a three-year assignment in Monterrey, Mexico, working out of the Consulate for the United States Department of State, International Narcotics and Law Enforcement Program, where he was the Regional Program Manager for Northeast Mexico (Coahuila, Tamaulipas, Nuevo Leon, Durango, San Luis Potosi, Zacatecas.)
http://feedproxy.google.com/~r/breitbart/~3/oXpc79LaVFM/