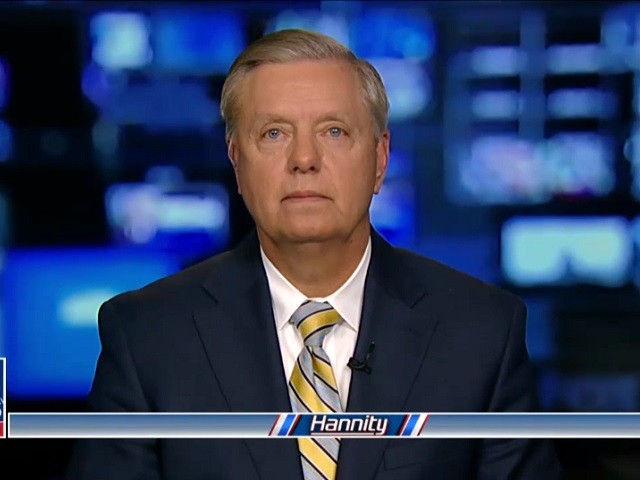 Wednesday on Fox News Channel's "Hannity," Sen. Lindsey Graham (R-SC) seemed to dismiss a threat from Sen. Jeff Flake (R-AZ) to block President Donald Trump's judicial appointees unless an up-or-down vote was held on a measure by he and Sen. Chris Coons (D-DE) that would protect Department of Justice special counsel Robert Mueller from being fired.
Graham told host Sean Hannity that he did not think Trump would order acting Attorney General Matthew Whitaker to fire Mueller.
Partial transcript as follows:
HANNITY: Yes. Senator, we have a lot of important judicial appointments. We have the threat by Jeff Flake tonight about protecting Mueller. And I know you said that is fine, but the president said he has no intention of firing Mueller. It looks like some agreement has been made by the reports I read, between the president's lawyers and the special counsel, written answers. That would mean this is now coming to an end, at least in my mind.

GRAHAM: Well, this is a manufactured problem. President Trump is not going to fire Mueller. Mueller is going to be allowed to do his job. And we need conservative judges on the bench, as many as we can, as often as we can get them.

I don't know what Senator Grassley is going to do. He's been a great chairman of the committee. If I'm chairman next chairman, we are going to do judges, judges, and more judges.

And at the end of the day, I am convinced that Mr. Mueller will be allowed to do his job. I've not seen one scintilla of evidence of collusion. The obstruction of justice thing never made any sense to me. You can fire somebody who works as a political employment, the FBI director can be fired for almost any reason. And the Democrats wanted Comey fired.

So, I feel good about everything right now.
Follow Jeff Poor on Twitter @jeff_poor
http://feedproxy.google.com/~r/breitbart/~3/14mSh5JjEiI/